News

Wakana Kingyo Replaces Saori Hayashi in Sega Hard Girls Project (Update)

posted on by Kyle Cardine
Hayashi announced her retirement in June
---

The official website for the Hi sCoool! SeHa Girl project announced on Wednesday that voice actress Wakana Kingyo will replace Saori Hayashi as the role of Mega CD 2. This will be Kingyo's debut role.
Hayashi announced her retirement after worrying blog posts in June.
The story of the upcoming anime will revolve around Dreamcast, Sega Saturn, and Mega Drive, who have just enrolled in SeHaGaga Academy at Tokyo's Haneda Ōtorii station. They are given an assignment needed to graduate by a suspicious teacher, and to clear this assignment, the girls need to enter the world of Sega games. The girls must try their best to graduate without incident.
The main cast includes:
Dreamcast (voiced by M.A.O)

Sega Saturn (Minami Takahashi)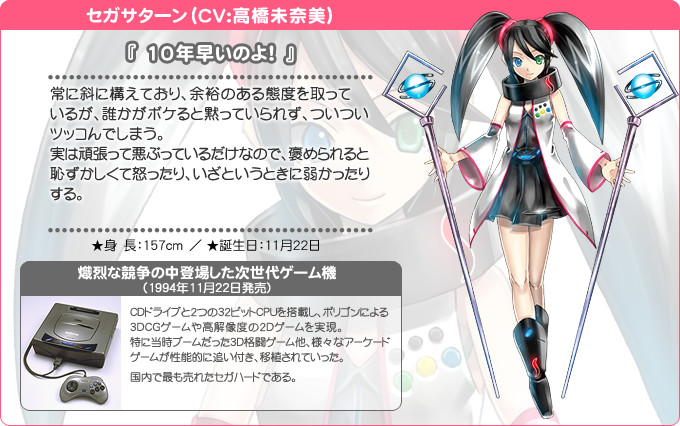 Mega Drive (Shiori Izawa)


Other cast members from the game only include:
Manami Tanaka as Sega Mark III
Yūko Takayama as Master System
Minami Tanaka as Game Gear
Haruna Momono as Robo Pitcher
Sumire Uesaka as Visual Memory
Mai Aizawa as SC-3000
Yū Serizawa as SG-1000
Naomi Ōzora as SG-1000 II
Shiori Mikami as Mega CD
Yuri Yamaoka as Mega Drive 2
Yui Kano as Super 32 X
Asami Tano as Genesis
Marina Inoue as TeraDrive
Wakana Kingyo as Mega CD 2
Hatsune Miku designer KEI created the original girl designs that inspired this anime. The series is being animated in CG at TMS Entertainment and Jinnis, with Sōta Sugahara (gdgd Fairies character design, animation director) directing the project off scripts written by himself and Masayuki Kibe. The production uses the MikuMikuDance software that has also been used for Minarai Diva, Tesagure! Bukatsu-mono, and KEI's Straight Title Robot Anime. Sota Sugahara and Kio designed the CG characters, and Shigeyuki Watanabe serves as CG director.
The anime will premiere on television on October 8.
Update: Although Kingyo will replace Hayashi in the project, there is no confirmation that Mega CD 2 or Kingyo will appear in the upcoming TV anime.
---