×
remind me tomorrow
remind me next week
never remind me
Subscribe to the ANN Newsletter • Wake up every Sunday to a curated list of ANN's most interesting posts of the week.
read more
News

Valkyria Chronicles Joins Dengeki Bunko Fighting Climax

posted on by Egan Loo
Selvaria is playable while Alicia is support in November 14 PS3/Vita game
---
Dengeki announced on Friday that Selvaria Bles and Alicia from the Valkyria Chronicles role-playing game will join the roster of Sega and ASCII Media Works' fighting game Dengeki Bunko Fighting Climax. Specifically, Selvaria will be a playable character, and Alicia will be a support character in the PlayStation 3/PS Vita versions of the game that will go on sale on November 13. The announcement was made at a stage event at Tokyo Game Show 2014.


The game features characters from ASCII Media Works' Dengeki Bunko light novel titles. Mami Kawada is performing the opening theme song "belief."

The Dream Duel mode that will debut in the home version includes new conversation events and battles. The game is designed so that both new and experienced players can enjoy gameplay. Network mode lets players face off against opponents across the country. Players can use in-game points to customize character colors and unlock special content. The game allows players to save data between the PlayStation Vita and PlayStation 3.
The game features playable characters that can team up with more than 20 support characters. Players can combine characters from the same title or different works to create the strongest fighting team.
The game's previously announced playable characters include:
Shana with Wilhelmina as support (Shakugan no Shana)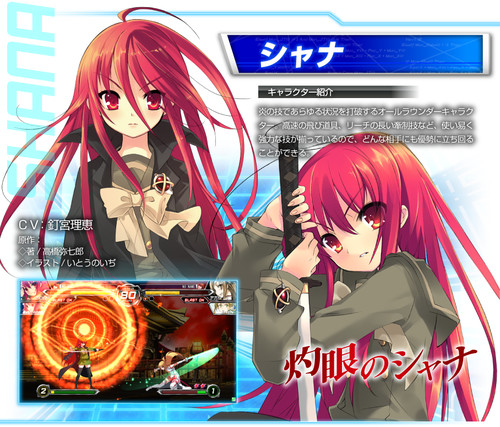 Asuna with Leafa as support (Sword Art Online)

Mikoto Misaka with Tōma Kamijō as support (A Certain Magical Index)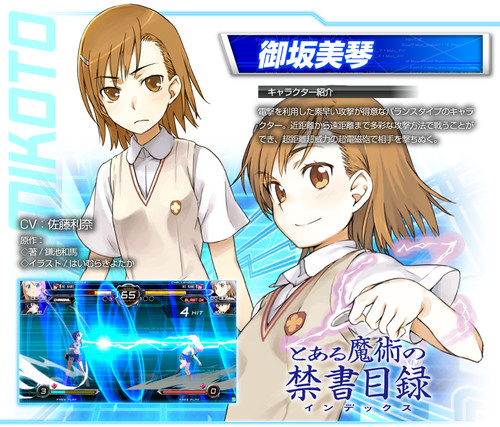 Kirino Kōsaka with Kuroneko as support (Oreimo)

Shizuo with Celty as support (Durarara!!)

Kuroyukihime with Haruyuki as support (Accel World)

Tomoka Minato with her four teammates as support (Ro-Kyu-Bu!)

Kirito with Leafa as support (Sword Art Online)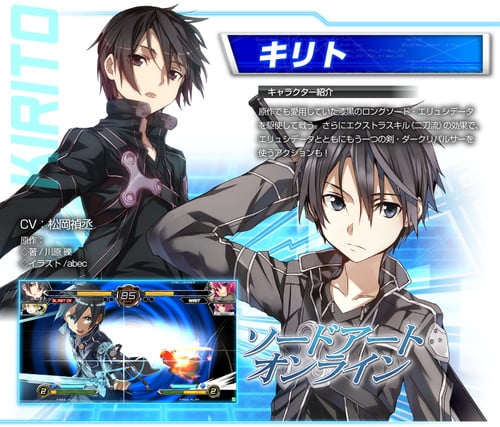 Miyuki Shiba with Tatsuya Shiba as support (The irregular at magic high school)

Taiga Aisaka with Takasu Ryūji as support (Toradora!)

Yukina Himeragi with Kojō Akatsuki as support (Strike the Blood)

Rentarō Satomi with Enju Aihara as support (Black Bullet)

Other support characters include:
Holo (Spice and Wolf)

Boogiepop (Boogiepop Phantom)


Sadao Maō (The Devil Is a Part-Timer!)


"Innocent Charm" (Hinata no Maboroshi, voiced by Yui Ogura) from Ro-Kyu-Bu!


Kōko Kaga (Yui Horie) from Golden Time

Kino (Aya Hisakawa instead of Ai Maeda) from Kino no Tabi: The Beautiful World

Mashiro Shiina (Ai Kayano) from The Pet Girl of Sakurasou


Erio Tōwa (Asuka Ōgame) from Ground Control to Psychoelectric Girl (Denpa Onna to Seishun Otoko)


Dengeki Bunko Fighting Climax will ship for PlayStation 3 and PlayStation Vita in Japan on November 13. The PlayStation 3 version will cost 6,980 yen (about US$67), and the PlayStation Vita version will cost 6,170 yen (US$59). People who reserve a copy will receive the Dengeki Bunko Fighting Climax Magazine.
Akira of the Virtua Fighter fighting game appears as a boss, and the game has a Sonic the Hedgehog stage.
Publisher ASCII Media Works and game developer Sega announced Dengeki Bunko Fighting Climax, their crossover 2D arcade fighting game, in September at the Tokyo Game Show 2013 event. The game is the fourth collaboration between ASCII Media Works' Dengeki Bunko imprint and Sega, and it marks Dengeki Bunko's 20th anniversary.
Source: Dengeki
---