News

Monster Hunter 4 Adds Weapons From Magi's Aladdin, Alibaba

posted on by Sarah Nelkin
Aladdin's staff, Alibaba's sword, themed quests, more planned for upcoming collaboration with 3DS game
---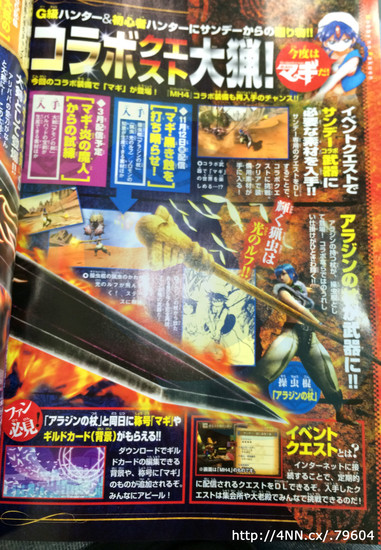 This year's 45th issue of
Shogakukan
's
Weekly Shonen Sunday
magazine is announcing on Wednesday that
CAPCOM
's
Nintendo
3DS game Monster Hunter 4 is getting a collaboration in Japan with
Shinobu Ohtaka
's
Magi
manga and anime adaptation. Specifically, players can equip themselves with Aladdin's staff (seen above), as well as Alibaba's sword Amon (seen below), though it will be available as a broad sword.

In addition, the game will be getting a set of collaboration quests, and players will be able to obtain the title of "Magi" and a Magi-themed guild card.
Kaname Fujioka directed and Ryozo Tsujimoto produced Monster Hunter 4 as they have for previous Monster Hunter games. This game supports up to four players. Manga creator Hiro Mashima (Fairy Tail) already designed original full-body outfits as well as a weapon for the game.
The equivalent of Japan's Monster Hunter 4G version will head west in early 2015 under the title Monster Hunter 4 Ultimate.
Other Monster Hunter 4 collaborations include a Super Mario and Legend of Zelda DLC, and a giant spoon weapon from Hiromu Arakawa's Silver Spoon manga.
---