News

GReeeeN Contributes Live-Action Strobe Edge Film's Theme

posted on by Egan Loo
Group auditions female vocalist to sing cover of "Ai Uta" song for March 2015 film
---

The popular musical group GReeeeN announced on Thursday that they are contributing their early hit single "Ai Uta" (Love Song) as the theme song of the live-action film of Io Sakisaka's adolescent romance manga Strobe Edge. They also revealed that the film will open on March 14, 2015. (March 14 happens to be White Day, the day for men to give gifts to women who gave them chocolates on Valentine's Day.)
However, instead of singing the vocals on "Ai Uta" for the film, the group suggested that a solo female vocalist should sing the movie's cover version instead. The group will hold auditions for the vocalist on their official account on the Line messaging service from October 17 and October 19. The winner will be announced at the end of this month.

This will be the first film adaptation of Sakisaka's "traditional school romance" story, which has sold 4.5 million copies. The shōjo romance manga ran in Bessatsu Margaret from 2007 to 2009. (GReeeeN also debuted "Ai Uta" in 2007.) Viz Media published the 10th and final volume of the manga in North America in May, and it describes the manga's story:
What is love, anyway? Ninako Kinoshita's friends tell her it's one thing, but Ninako wonders what this mysterious feeling really is. When she meets Ren Ichinose, a handsome, enigmatic guy who all the girls worship, her life takes an unexpected turn. With just a few words and a smile, he changes her world...

21-year-old actor Sōta Fukushi and 21-year-old actress Kasumi Arimura will star in the film. Fukushi will play the story's cool school idol; he was a "huge fan" of the original manga even before he received the offer to play the role. Arimura cut her hair by 20 centimeters (about 8 inches) into a bob to play the heroine. Yūki Yamada will play Takumi Andō, Arisa Satō will play Mayuka Korenaga, Jingi Irie will play Daiki Korenaga and Yuina Kuroshima will play Mao Sugimoto, respectively. Director Ryūichi Hiroki began filming the Strobe Edge movie in January in Niigata Prefecture.
GReeeeN already contributed "Ai Uta" for another commercial that Rintaro (Galaxy Express 999, Metropolis) directed at the anime studio Madhouse for Meiji's fruit juice gummi candies. GReeeeN previously contributed the opening theme song for Line Town, the anime based on the Line service's mascot characters. They also created an animated music video for their 2012 song, "Misenai Namida wa, Kitto Itsuka" (Hidden Tears, Surely Someday…)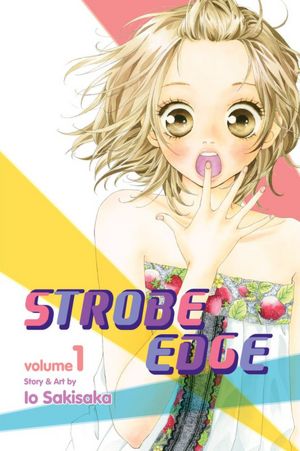 American Library Association's (ALA's) Young Adult Library Services Association named the original manga in its 2014 list of Great Graphic Novels for Teens. Sakisaka is now serializing another manga called Ao Haru Ride in Bessatsu Margaret, and that manga is inspiring both a television anime this year, a live-action film in December, and an original anime DVD in December.
Source: animeanime.jp
---