News

Updated Durarara!!×2 Promo Adds OKAMOTO'S Theme Song

posted on by Sarah Nelkin
Band performs opening theme "Headhunter" for January anime
---
Aniplex began streaming an updated promotional video for the Durarara!!×2 anime on Monday featuring the anime's opening theme song, "Headhunt" by the band OKAMOTO'S.
Durarara!!x2 Shou PV2 OKAMOTO'S ver.
by pKjd
New cast for the series includes: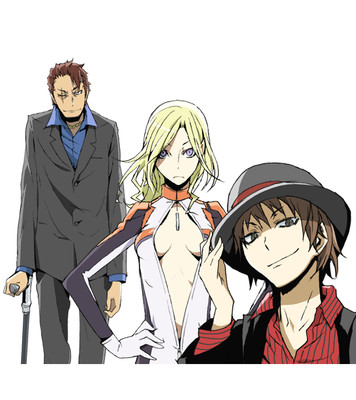 M.A.O as Vorona (pictured above center)
Kappei Yamaguchi as Mizuki Akabayashi (above left)
Hiro Shimono as Aoba Kuronuma (below center)
Yūki Ono as Chikage Rokujo (above right)


Misaki Kuno
as Mikiya's daughter Akane Awakusu


Yasuyuki Kase as Mikiya Awakusu, a young leader in the Medei Group's Awakusu organization


Shōzō Iizuka as Dogen Awakusu, the head of the Medei Group's Awakusu organization


Toshiyuki Morikawa as Егор (Egor), the assassin who came from Russia


Satoshi Mikami as слон (Sloan), a giant man who joins Vorona


Atsumi Tanezaki as Emilia, Shingen's wife after remarrying


Kiyoyuki Yanada as Shu Aozaki, a leader in the Medei Group's Awakusu organization
Takahiro Ōmori will direct the anime at new studio Shuka with series composition by Noboru Takagi. Takahiro Kishida will be designing the characters for the series, and Makoto Yoshimori will be providing the music. Eri Yamazaki will be designing the props, Hiromi Miyawaki is in charge of the color key, Norikazu Kamibayashi will take the position of CG producer, Kazuhiko Seki will handle editing, Jin Tamura is in charge of photography, and the name of the animation's production group will be Ikebukuro Dollars, the same as the first season. The main cast from the original anime is returning to reprise their roles.
Thanks to Dennis for the embedded video.
---