News

Show By Rock!! TV Anime's 3rd Band Promo Video Posted

posted on by Sarah Nelkin
Fictional Japanese-style band introduced for 2015 series based on
Sanrio
mobile game
---
A promotional video for Tsurezurenaru Ayatsuri Mugenan, one of the bands in the Show By Rock!! television anime, debuted during the anime's Niconico Live program on Friday.
The video also reveals that the anime will have a new, original story.
The Tsurezurenaru Ayatsuri Mugenan are a Japanese-style band who, like the main characters' band Plasmagica, aim to be the top band in the world.
The members include:

Leader and drummer Daru Dayu

Bassist A

Guitarist and vocalist Un
The staff of the show is unveiling new images of new bands from the show every month. The first video introduced Plasmagica, and the second introduced ShinganCrimsonZ.
The anime Show By Rock!! adapts Sanrio's mobile phone rhythm game of the same name. Sanrio began distributing the game developed by Geeks for iOS and Android in 2012. The game is free to play, but has in-game items that can be purchased.
Sanrio describes the story of the original game on its website:
Metropolis of music, MIDICITY. A kitty girl wearing gothic lolita clothing named Cyan is scouted by Maple Arisugawa, the president of a music agency. From there, she meets Chuchu (a pun off of the sound that rabbits make) the honor student rabbit girl, a net geek dog girl named Retoree (from "Retriever"), and an alien sheep (?) girl named Moa. Together, they form the band named "Plasmagica," and aim for the top of the world.

However, the path there is long and tough, and keeping in high spirits is important. By battling against other strange bands, Plasmagica slowly grows toward a top-grade band. In the end, they'll be a band that becomes the driving force of MIDICITY's music industry... Maybe?

Gonna be a music millionaire!
Plasmagica's cast in the original game includes: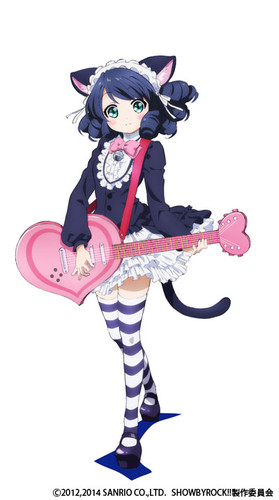 Eri Inagawa (Pac-World) as Cyan, the gothic lolita kitty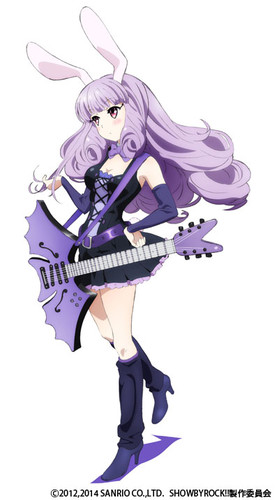 Sumire Uesaka (Hozuki no Reitetsu, Listen to Me, Girls. I Am Your Father!) as Chuchu, the honor student bunny

Eri Kitamura (Mermaid Melody Pichi Pichi Pitch Pure, Sunday Without God) as Retoree, the net geek dog

Ayane Sakura (Dream Eater Merry, Love Lab) as Moa, the alien sheep (?)
The cast of the original game for Shingan CrimsonZ includes:

Kishô Taniyama (Attack on Titan, The Unlimited - Hyōbu Kyōsuke, Junjō Romantica) as Crow, the guitarist and vocalist

Jun'ichi Yanagida (background characters in Haganai, K, Muv-Luv Alternative: Total Eclipse) as Aion, the guitarist

Mitsuhiro Ichiki (Freezing, Maid Sama!) as Yaiba, the bassist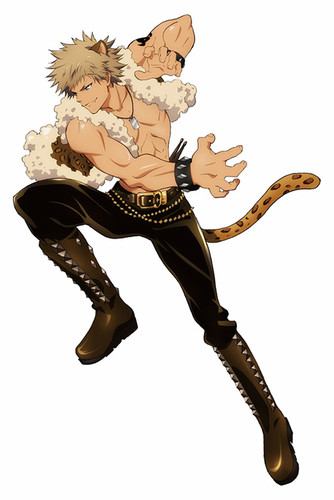 Teruyuki Tanzawa (009 Re:Cyborg, Tayutama - Kiss on My Deity) as Rom, the drummer
[Images via Moca News
Images © 2012, 2014 Sanrio Co.,LTD., SHOWBYROCK!! Production Committee
---