×
remind me tomorrow
remind me next week
never remind me
Subscribe to the ANN Newsletter • Wake up every Sunday to a curated list of ANN's most interesting posts of the week.
read more
News

Masami Suzuki, Nobuyuki Hiyama, More Join Samurai Warriors/Sengoku Musou Anime's Cast

posted on by Sarah Nelkin
Episode 1 screenshots, synopsis also unveiled for January anime adapting
Koei Tecmo
's series of games
---
The official website for the television anime of Koei Tecmo Games' Samurai Warriors (Sengoku Musou) game franchise updated on Wednesday, and unveiled a new batch of new cast members (note: historical names are written family name first, while voice actors are written family name last):


Shinichi Yamada as Shima Sakon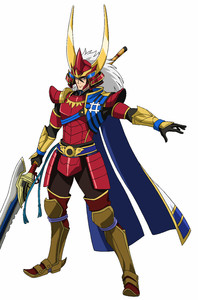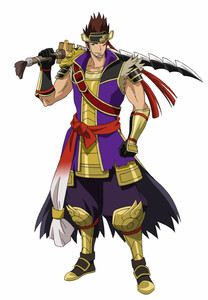 Katsuyuki Konishi as Ii Naomasa (seen left) and Maeda Toshiie (right)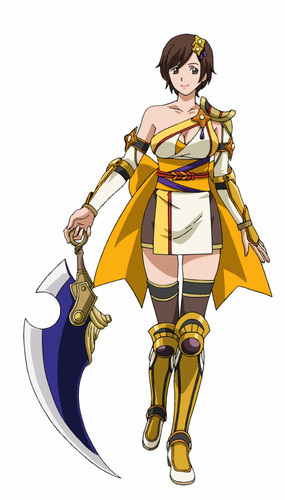 Wakana Yamazaki as Nene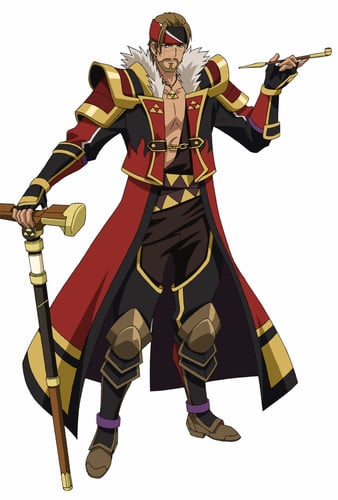 Unshou Ishizuka as Hōjō Ujiyasu

Masami Suzuki as Kaihime

Satomi Satou as Hayakawa-dono (Lady Hayakawa)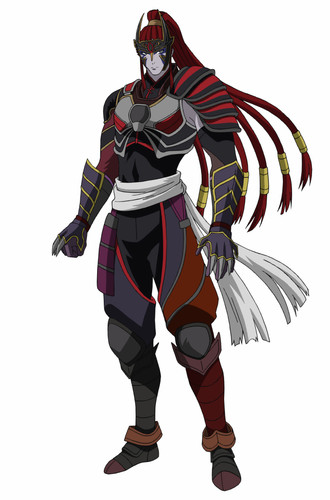 Nobuyuki Hiyama as Fūma Kotarō (seen above) and Date Masamune (not pictured)
In addition, Ryōta Takeuchi will play the roles of both Katakura Kagetsuna and Uesugi Kagekatsu.
The website also lists the synopsis for the anime's first episode:


The age is the Warring States period, when many officers hold the dream of uniting the country. Toyotomi Hideyoshi, a man who has that goal right in front of his eyes, brings his protege and supreme commander Ishida Mitsunari along with a large army to surround Odawara Castle, which protects Ujiyasu Hōjō. However, the castle does not fall so easily, and nearly three months pass. Even many of the generals that gather at Mitsunari's side suggest breaking the stale-mate. Within the arguments of the generals, the single general who rushes to the scene to penetrate an opening in the castle is Sanada Yukimura. His elder brother, Sanada Nobuyuki, chases after him. Betting on Hideyoshi's conquest, the Sanada brothers clash with Hōjō!
A series of character song singles will also be released, with a new single being released every month beginning in February. The singles will be for Sanada Yukimura, Ishida Mitsunari, Sanada Nobuyuki, and Ōtani Yoshitsugu.
The previously-announced cast includes:


Takeshi Kusao as Sanada Yukimura


Daisuke Ono as Sanada Nobuyuki


Eiji Takemoto as Ishida Mitsunari


Masaya Takatsuka as Naoe Kanetsugu


Yuko Nagashima as Kunoichi


Makiko Ohmoto as INA-hime


Satoshi Hino as Ōtani Yoshitsugu


Masaya Matsukaze as Tōdō Takatora


Hideo Ishikawa as Toyotomi Hideyoshi


Tomokazu Sugita as Katō Kiyomasa


Takahiro Fujimoto as Fukushima Masanori


Akio Ohtsuka as Honda Tadakatsu


Jouji Nakata as Tokugawa Ieyasu
Additionally, the staff has also revealed the character designs for Tokugawa Hidetada.

The key phrase of the anime's story is: "What are you fighting for?" The story takes place in Japan's tumultuous Sengoku era, where violent battles are being raged across the country. The "passionate and painful" story follows the "troubled fate" of the Sanada brothers, who have sworn an oath that no matter what, they will fight to the bitter end together.
Toyotomi Hideyoshi is on the verge of unifying the realm, and all that remains is the Odawara Castle protected by the "Lion of Sagami" Ujiyasu Hōjō. Hideyoshi's personally trained generals — Ishida Mitsunari, Katō Kiyomasa, and Fukushima Masanori — as well as Ōtani Yoshitsugu, Shima Sakon, and Naoe Kanetsugu are all on the frontline of the battle. Amidst the battle formation are the two young warriors of the Sanada household: older brother Nobuyuki and younger brother Yukimura. As the stalemate begins to break down, Sanada Yukimura rides on a lone horse into the fray. His brother follows him right after.
Koei Tecmo Games software development head Hisashi Koinuma is serving as chief production supervisor of the series. Kōjin Ochi (La Corda D'Oro - primo passo, Case Closed, Sengoku Musou SP: Sanada no Shou) is directing the series, Yuka Yamada (Neo Angelique Abyss, Mushi-Shi, Black Butler) is handling the series composition, and Aki Tsunaki (Chōyaku Hyakunin Isshu: Uta Koi, Harukanaru Toki no Naka de 3: Owari Naki Unmei) is designing the characters. Tezuka Productions and TYO Animations are both animating the series, and NAS is producing the series.
Wagakki Band, a group that combines rock with traditional Japanese instruments and features a vocalist who recites Japanese or Chinese poetry, will perform the show's theme song "Ikusa."
The series will premiere on January 11 on Japanese television.
Images © Koei Tecmo Games / Anime Sengoku Musou Production Committee
---