News

Naruto Stage Musical's Cast Unveiled in Costume

posted on by Jennifer Sherman
Story to cover manga's 1st-27th volumes, include songs, dance, acrobatics
---
Character visuals of the stage musical Live Spectacle Naruto's main cast members in costume were unveiled on Saturday. The visuals include images of Kōdai Matsuoka as Naruto, Ryūji Satō as Sasuke, Yui Itō as Sakura, and Kenta Suga as Gaara.

Kōdai Matsuoka as Naruto

Ryūji Satō as Sasuke

Yui Itō as Sakura

Kenta Suga as Gaara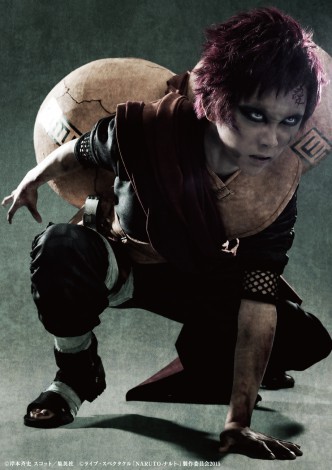 The musical will cover the manga's story from the first to 27th volume. The production will include drama, songs, dance, and acrobatics.
The cast also includes:
Yuuki Kimisawa as Kakashi
Kazuhiro Hirakawa as the Third Hokage
Hidekazu Ichinose as Iruka
Tatsunari Kimura as Kabuto
Asahi Uchida as Zabuza
Miho Imamura as Haku
Other characters that will appear in the musical include Ino, Shikamaru, Chōji, Kiba, Shino, Hinata, Jiraiya, and Orochimaru.
Akiko Kodama will direct the play, and Toshio Masuda will compose the music at Nelke Planning production company.
The musical will run from March 21 to April 5 in the AiiA Theater Tokyo, followed by performances in Fukuoka (April 10-12), Osaka (April 17-19), Miyagi (April 23-25), and then Tokyo again (April 29-May 10). The musical will also open in Macao, Malaysia, and Singapore after it runs in Japan.
The musical is part of the ongoing Naruto Shin Jidai Kaimaku Project" (Naruto's New Era Opening Project) that continues after the ending of the original manga in November.
Source: Oricon
---