News

Happy Cooking Graffiti TV Ad Previews Opening Theme

posted on by Karen Ressler
Shaft-animated series about cooking and eating to premiere on January 8
---
Japanese television station TBS aired a 30-second commercial for the upcoming television anime of Makoto Kawai's four-panel manga Happy Cooking Graffiti (Kōfuku Graffiti) on Friday. The video features the openingtheme song "Shiawase Nitsuite Watashi ga Shitteiru Itsutsu no Hōhō" (The five techniques I know for happiness) by Maaya Sakamoto.
Food you eat with people precious to you is very delicious and very warm. A warm youth surrounded by food is here. New television show: Happy Cooking Graffiti. I want to eat with you until we're full!

Puella Magi Madoka Magica and Monogatari series director Akiyuki Shinbo will helm Happy Cooking Graffiti as chief director at Shaft, and Naoyuki Tatsuwa (Nisekoi, Katteni Kaizō) will direct. Mari Okada (Selector Infected Wixoss, AKB0048) will be in charge of series composition, Kazuya Shiotsuki (Nisekoi chief animation director, Madoka Magica animation director) will design the characters. Toshiki Kameyama will serve as sound director and Flying Dog will be in charge of music.
Rina Satou and Asuka Ōgame will perform the ending theme "Egao ni Naru" (Put on a smile) as their characters Ryō and Kirin.
The story follows Ryō, a middle school girl who lives by herself. She has a knack for cooking, and she makes friendships with everyone through her food. The cooking manga is "full of detailed cuisine art to whet the appetite and slightly erotic meal scenes." The "kōfuku" in the title is a wordplay on two Japanese homonyms — one that means "happiness," and another that means "appetite."
The main cast includes:
Rina Satou (Pretty Guardian Sailor Moon Crystal, A Certain Scientific Railgun S) as Ryō Machiko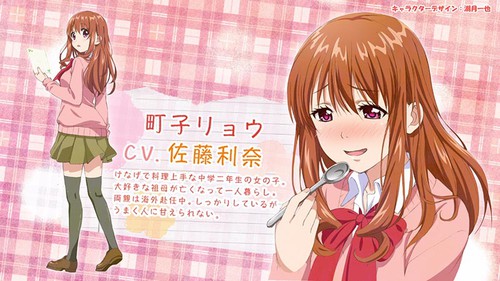 Asuka Ōgame (Vividred Operation, Kokoro Connect) as Kirin Morino


Mikako Komatsu (Nisekoi, K) as Shiina


The series will also star Yuka Iguchi as Yuki Uchiki, Yu Kobayashi as Tsuyuko, and Ai Nonaka as Akira Michiko.
Thanks to Kagayaki for the embedded video.
---