News

Crunchyroll Adds Why Can't Seiya Toudoin (Age 16) Get a Girlfriend? Drama

posted on by Karen Ressler
Live-action series adapts manga about a perfect guy who can't still win over girls
---

Crunchyroll announced on Friday that it will stream the Why Can't Seiya Toudoin (Age 16) Get a Girlfriend? drama series. The stream will be available in the United States, Canada, the United Kingdom, Ireland, South Africa, Australia, New Zealand, Denmark, Finland, Netherlands, Norway, Sweden, and South America.
The first episode premiered in Japan on January 7 on Tokyo MX. Crunchyroll will announce its stream times later.
Why Can't Seiya Toudoin (Age 16) Get a Girlfriend? stars Yutaka Kobayashi (Kamen Rider Gaim's Kamen Rider Baron) in the title role .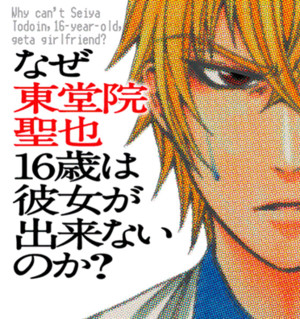 The drama is based on Shuya Uchino and Kanta Mogi's manga Naze Tōdōin Seiya 16 Sai ha Kanojo ga Dekinai no ka?. Mogi and Uchino launched the series in Kodansha's Monthly Shonen Rival in 2011, and Kodansha shipped the seventh volume on March 4.
DeNA's free Manga Box smartphone and tablet app publishes the manga as Why Can't I Get a Girlfriend? in English. Manga Box describes the story:
Seiya Toudouin is athletic, good-looking, gets perfect grades, and is from a fantastically wealthy family... but he just can't seem to get a girlfriend! "Why? Why can't I get a girlfriend?" he asks himself, but the more he does, the more chances slip away from him, and the more he wants one, the more he fails! This is a lonely battle for love that anyone can empathize with!
---