News

Go! Princess Precure Anime's 2nd Trailer Introduces Cure Mermaid

posted on by Egan Loo
Masumi Asano
plays Minami Kaidō in anime starting February 1
---
Toei Animation began streaming the second trailer for the upcoming Go! Princess Precure anime on Sunday. The video focuses on the character Minami Kaidō, who transforms into the sea princess Cure Mermaid. The heroine Haruka (as voiced by Yu Shimamura) narrates the video and introduces Cure Mermaid.
The cast includes:
Yu Shimamura (Gundam Reconguista in G's Aida Surugan) plays the heroine Haruka Haruno, a first-year student at Noble Academy. Even now, she has cherished a dream of becoming a princess, like those from her cherished picture books.

Masumi Asano (Ikki Tousen's Hakufu Sonsaku) plays Minami Kaidō, a second-year student and the student council president nicknamed the "school princess." She also happens to transform into the sea princess Cure Mermaid.

Hibiku Yamamura (Arpeggio of Blue Steel's Haruna) plays Kirara Amanogawa, Haruka's classmate who is a popular model and the star princess Cure Twinkle.

Nao Toyama (Nisekoi - False Love's Chitoge Kirisaki) and Shiho Kokido (My mental choices are completely interfering with my school romantic comedy's Daiko Gondo) play Pafu and her older brother Aroma — fairies who came from Hope Kingdom in search of the Princess Precures.


Shinnosuke Tachibana plays Kanata. Long ago, Haruka made a promise with this boy to never give up her dream of becoming a princess. He happens to be Prince Hope Grand Kanata from the Hope Kingdom.

The keyword of the new series is "princess," and the source of the Precures' power is "dreams." The story is set in Noble Academy, the first boarding junior high school in the Precure franchise. The anime depicts the excitement of dorm life, coming of age while living with friends, and the anticipation and anxiety of a new life among roommates, separated from family.
One day, the "Princess Precures" were revived by the Princess Perfume (and Kanata's dress-shaped "Dress-Up Key" that unlocks the Princess Perfume's power), and Haruka transforms into the flower princess Cure Flora. When unleashing their special signature moves, the Princess Precures' outfits turn into magnificent princess-like Mode Elegant long dresses.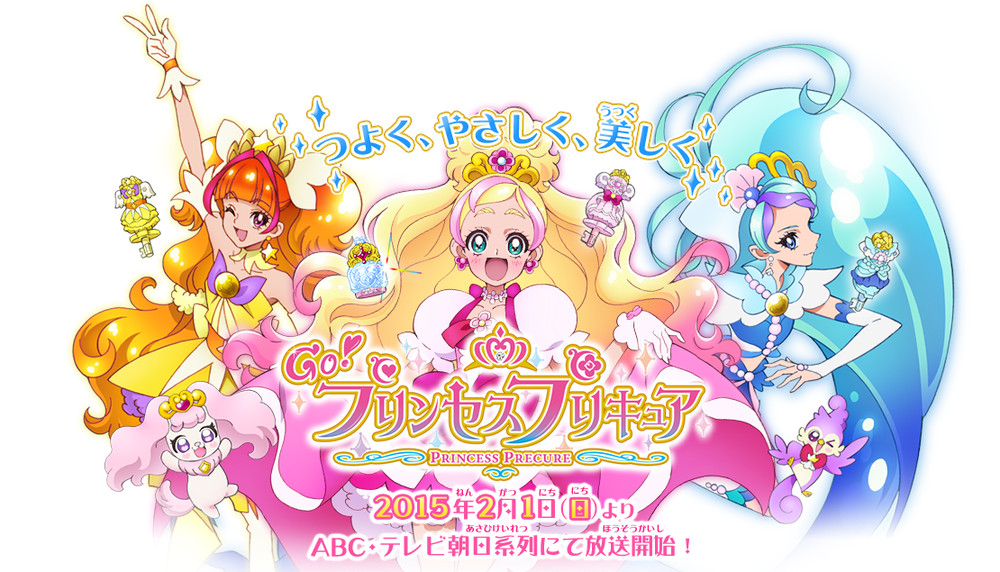 Yūta Tanaka, an episode director who worked on the franchise since Suite Precure, is serving as the series director of the new anime. Jin Tanaka is in charge of the series scripts. The 2014 Miss Universe Japan competition's Nara representative Karin Isobe is performing the opening theme song "Miracle Go! Princess Precure," and stage musical actress Rie Kitagawa is performing the ending theme "Dreaming Princess Precure."
The end of first episode will reveal a password on February 1. Each person who gives the password at toy stores throughout Japan will receive a DVD present.
Images © ABC, Toei Animation
---