News

New Legendary Pokémon Hoopa Unveiled as Star of Next Franchise Film

posted on by Sarah Nelkin
Ring no
Chō
majin Hoopa premieres in Japan on July 18
---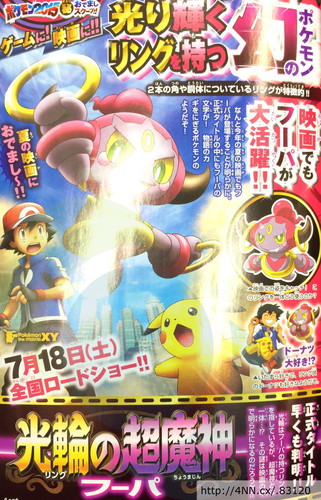 The February issue of Shogakukan's Coro Coro Comic magazine is announcing on Thursday that the title of the next Pokémon film will be Ring no Chōmajin Hoopa (The Ring Genie Hoopa), and will star the newly-announced donut-loving legendary Pokémon Hoopa as the star. This is the first time Nintendo has unveiled Hoopa officially.

The magazine also notes that the Pokémon has a special power hidden in its rings, and that it can use both Psychic and Ghost-type moves. It also notes the the Pokémon will appear in the Omega Ruby and Alpha Sapphire games, but cannot be found through a normal play-through.

In addition, the magazine announces that attendees to the World Hobby Fair event that will be held in Nagoya, Tokyo, Fukuoka, and Osaka between January 18 and February 8 will receive a special level 70 black-colored Rayquaza with the moves Dragon Pulse, Thunder, Twister, and Extreme Speed.
The magazine had also reported last year that the Pokémon franchise's 2015 film would feature "Primal Reversion" forms of the legendary Pokémon Groudan and Kyogre.
The 2014 Pokémon film, Pocket Monster XY: Hakai no Mayu to Diancie (Pokémon the Movie: Diancie and the Cocoon of Destruction), premiered in Japan last July. Nintendo released Nintendo 3DS remakes of Pokémon Ruby & Sapphire titled Pokémon Omega Ruby and Alpha Sapphire world-wide in November.
Update: Typo fixed. Thanks, Adamanto.
---