News

Parasyte Tribute Manga in Aria Magazine Ends

posted on by Karen Ressler
Angel Sanctuary, Attack on Titan: No Regrets, We Were There, Haré+Guu artists contributed
---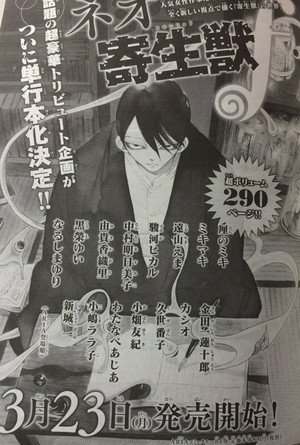 This year's March issue of Kodansha's Aria magazine published the final installment of its "Neo Kiseijū f" (Neo Parasyte f) manga project on Wednesday. The project is a collection of one-shot tribute manga by different creators. Kodansha will publish the compiled book volume on March 23.
The full list of contributors is:
MikiMaki (Para☆Dise)
Miki Rinno (Juon -video side-)
Ema Toyama (Manga Dogs, I am Here)
Hikaru Suruga (Attack on Titan: No Regrets)
Asumiko Nakamura (Utsubora)
Kaori Yuki (Angel Sanctuary)
Yui Kuroe (K: Memory of Red)
Yuri Narushima (Planet Ladder)
Renjuro Kindaichi (Haré+Guu)
Kashio
Banko Kuze (Palace Meidi)
Yuuki Obata (Bokura ga Ita - We Were There)
Asia Watanabe (Because I'm a Boy!)
Lalako Kojima (Ninth Life Love)
Hajime Shinjō
Another "Neo Kiseijū" tribute series is running in Kodansha's Afternoon magazine, with such contributors as Riichi Ueshiba (Mysterious Girlfriend X) and Akira Hiramoto (Prison School, Me and the Devil Blues).
---