News

Precure All Stars: Haru no Carnival's Film's Dance Video Shows 40 Precures

posted on by Sarah Nelkin
---
Animation studio Toei unveiled a dance video clip from the upcoming Eiga Precure All Stars: Haru no Carnival film on Saturday. The clip shows the forty Precure warriors from the past anime series, as well as the upcoming series Go! Princess Precure. The song featured in the video is "Ima Koko Kara" (From Here on Out.)
Like the six previous Precure All Stars films, the film features the characters from all Precure television series. In the story, the Precure visit Harmonia, the country of song and dance.
Junji Shimizu is directing the film, Mio Inoue wrote the screenplay, and Yasuharu Takanashi provided the soundtrack. The film will open in Japan on March 14.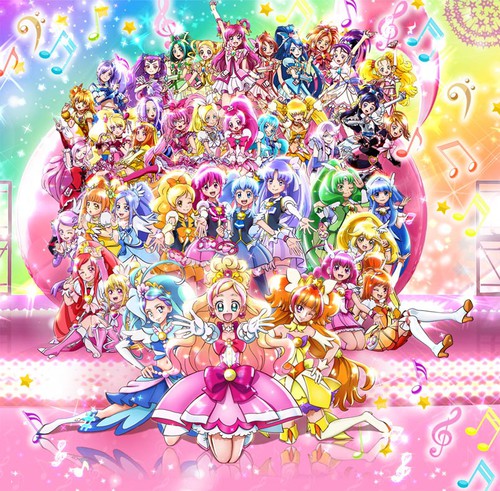 Yu Shimamura (Gundam: Reconguista in G's Aida Surugan) plays the Go! Princess Precure heroine Haruka Haruno, a first-year student at Noble Academy. Even now, she has cherished a dream of becoming a princess, like those from her cherished picture books.

Masumi Asano (Ikki Tousen's Hakufu Sonsaku) plays Minami Kaidō, a second-year student and the student council president nicknamed the "school princess." She also happens to transform into the sea princess Cure Mermaid.

Hibiku Yamamura (Arpeggio of Blue Steel's Haruna) plays Kirara Amanogawa, Haruka's classmate who is a popular model and the star princess Cure Twinkle.

Nao Tōyama (Nisekoi - False Love's Chitoge Kirisaki) and Shiho Kokido (My mental choices are completely interfering with my school romantic comedy's Daiko Gondo) play Pafu and her older brother Aroma — fairies who came from Hope Kingdom in search of the Princess Precures.


Shinnosuke Tachibana plays Kanata. Long ago, Haruka made a promise with this boy to never give up her dream of becoming a princess. He happens to be Prince Hope Grand Kanata from the Hope Kingdom.

Source: Animeanime.jp
Images © ABC, Toei Animation
---