×
remind me tomorrow
remind me next week
never remind me
Subscribe to the ANN Newsletter • Wake up every Sunday to a curated list of ANN's most interesting posts of the week.
read more
News

Anime Limited Distributing Mobile Suit Gundam The Origin Part 1

posted on by Andrew Osmond
---

Anime Limited has announced that it will be distributing the Blu-ray edition of Mobile Suit Gundam: The Origin I: Blue-Eyed Casval. According to the announcement, "You'll be able to pre-order the Blu-ray Collector's Edition [Export Version] direct from our AllTheAnime.com web store prior to its release on 24 April 2015."
Anime Limited stresses, "This is an item only available through pre-ordering. You must have placed your order by Monday 13 April to secure your pre-order, otherwise you will have missed your chance to order this set. This item will not available to order at all through our site after 13 April."
This edition is described as "a Japanese export package designed with a worldwide audience in mind." The release includes the main feature with both the original Japanese audio (with English subtitles) along with English language audio that has been produced by NYAV Post. (The dub is featured in the above trailer.)
The SRP is £69.99, includes shipping from Japan. Anime Limited says, "We have not set the price and are simply coordinating with Bandai in Japan to be able to make this available as easily as possible to anyone in the UK who wants to order it.'
The company also notes that "Money is taken immediately once the ordering process is complete" and that Anime Limited is "clearing the legalities" to make sure that no UK orders are hit by custom charges.
Anime Limited will not be distributing the title in any other form. Regarding VOD, the company says, "We are not handling that side of things so can't comment on distribution plans for that. (Though we are looking into how we can possibly still provide a VOD version of this for you. More details as and when that information becomes available.)"

The edition (pictured right) contains:
- Mobile Suit Gundam: The Origin I: Blue Eyed Casval Blu-ray disc (73 mins approx, including '10 minutes bonus');
- Storage box illustrated by Yoshikazu Yashuhiko (original writer and illustrator);
- Storyboards and Setting Art Book (296 pages);
- Japanese booklets;
- Sleeve (O-card) illustrated by Yoshikazuk Yasuhiko;
- Trailers and TV Commercial
The cast includes Mayumi Tanaka as Casval Rem Deikun  (Young Char Aznable), Megumi Han as Artesia Som Deikun (Young Sayla Mass) and Shuuichi Ikeda as Char Aznable. The first installment of the series Aoi Hitomi no Casval (Blue-eyed Casval), will play for two weeks in 13 Japanese theaters, starting on February 28.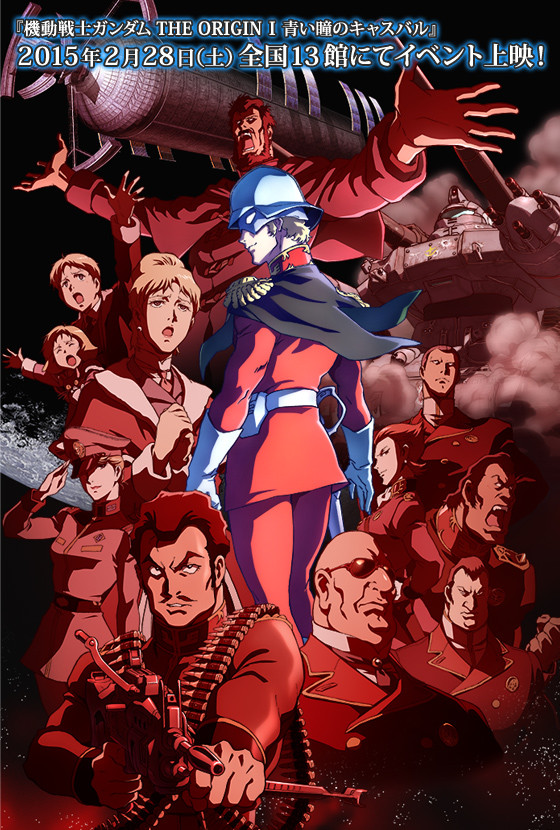 The story of Mobile Suit Gundam: The Origin will be told in four parts. The first part, Aoi Hitomi no Casval, will tell the story of Casval Rem Deikun and Artesia Som Deikun (Char and Sayla, before Char became known as the Red Comet) before the One-Year War in UC.0068.

Takashi Imanishi (Mobile Suit Gundam 0083: The Last Blitz of Zeon, Violinist of Hamelin) is directing the anime off scripts by Katsuyuki Sumisawa (Mobile Suit Gundam Wing, Dragonball Z) at Sunrise. Manga artist Yasuhiko is credited as a general manager and as a character designer along with Tsukasa Kotobuki (Saber Marionette J). Kunio Okawara (Gundam Build Fighters) is heading original mechanical design and Takayuki Hattori (Code:Breaker) is composing the music. The rest of the staff is as follows:
Yoshikazu Yasuhiko's Mobile Suit Gundam: The Origin manga series is itself a re-imagining of Yoshiyuki Tomino and Sunrise's first Gundam anime. Yasuhiko launched the manga in Kadokawa Shoten's Monthly Gundam Ace inaugural issue in 2001 and ended the series in 2011.
Images © Sotsu, Sunrise
---