News

2nd Baby Steps Season Casts Takuya Eguchi, Natsuki Hanae

posted on
Previous cast returns alongside new cast in anime premiering April 5
---
NHK 's Anime World website revealed the second round of cast announcements for the second season of the Baby Steps sports television anime on Tuesday.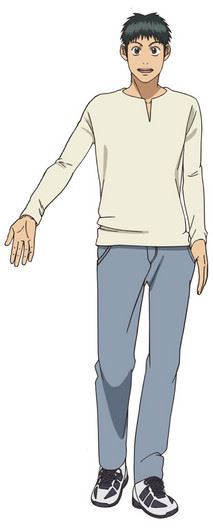 Takuya Eguchi as Atsushi Taira, a 19-year old Japanese student studying in an American school while still aiming to be a pro. He is Eiichiro's roommate, but his mind seems to be occupied by something.

Natsuki Hanae as Krishna Ramesh, an exchange student from India, and at 16 years old, is a year younger than Eiichiro. He and Eiichiro are roommates. A rising star, he is one of the top class junior athletes.
NHK previously announced Hiroshi Kamiya and Megumi Han were playing the characters Alex O'Brien and Marcia O'Brien, respectively.
The cast also includes:
Taishi Murata as Eiichiro Maruo
Minako Kotobuki as Natsu Takasaki
Daisuke Namikawa as Takuma Egawa
Takuma Terashima as Kojirō Kageyama
Hiro Shimono as Yukichi Fukasawa
Tetsuya Kakihara as Takuya Miyagawa
Tomoaki Maeno as Ryo Ōbayashi
Wataru Hatano as Hiroshi Araya
Yuuki as Yūki Tajima
Taiten Kusunoki as Coach Miura
Asami Seto as Himeko Sasaki
Yoshiyuki Shimozuma as Nariyuki Koshimizu
Shintarō Asanuma as Hiromi Iwasa
Yoshimasa Hosoya as Sōji Ike
Takahiro Sakurai as Yū Nabae
Kentarou Itou as Takayuki Okada
Kenn as Yoshiaki Ide
Kousuke Toriumi as Coach Aoi
The Baby Steps television anime adapts Hikaru Katsuki's manga of the same name, which revolves around Eiichirō "Ei-chan" Maruo, a punctual and earnest boy who has strived for straight As since elementary school. The 15-year-old high school boy stops by a tennis school to deal with his lack of exercise. There, he meets Natsu Takasaki, a beautiful, earnest girl who only has passion for tennis. The second season's story picks up at a Florida academy where the rival players of the world vie for #1.
The second season will premiere on April 5 and will run for 25 episodes.
The first anime series premiered last April. Pierrot (Naruto, Kingdom) animated the first television series with a total of 25 episodes. Katsuki himself collaborated on the creation of episodes with original stories not told in the manga. Kenji Saito (Dennō Coil, Bakuman., Bottom Biting Bug) produced the anime for NHK. Crunchyroll streamed the first series as it aired in Japan.


[Via Ota-Suke]
---
this article has been modified since it was originally posted; see change history