News

Kyōkai no Kanata -I'll Be Here- Mirai-hen Film's Trailer Unveiled

posted on
Updated cast, staff list, tickets,
Minori Chihara
theme song also announced
---
Kyoto Animation began streaming the first full trailer for its upcoming Gekijō-ban Kyōkai no Kanata -I'll Be Here- Mirai-hen (Beyond the Boundary The Movie -I'll Be Here- Future Chapter-) film on Saturday. The film features the film's main theme song, "Aitakatta Sora" (The Sky I Wanted to Meet) by voice actress Minori Chihara.
Akito: Can you put on these glasses?
Text: All of the memories
Mirai: Then um...
Text: Inside of her
Mirai: Who are you?
Text: Disappeared.
Aktio She can forget her mission and live on as a human. That's a happy thing.
Hiroomi: But is that a good thing?
Mitsuki: Are you really OK with that?
Sakura: It's still left inside of Mirai.
Text: Is knowing the truth
Mirai: Just what am I!?
Sakura: Run away!
Text: Really happiness?
Mirai: I'm... I'm not a normal human, am I? Please tell me!
Akito: I can't...
Akito: I want you to become happy...!
Text: Don't forget...
Mirai: Am I happy...?
Text: I Am Here!.
Akito: The past doesn't matter! Kuriyama!
Akito: Hey... What do you think happiness is?
The website for the film also updated, and unveiled a new key visual:


An updated returning cast list also announced, with the following additions:
Akeno Watanabe as Shizuku Ninomiya
Ayako Kawasumi as Izumi Nase
Moe Toyota as Sakura Inami
Naomi Shindoh as Ayaka Shindō
Tatsuhisa Suzuki as Hiroomi Nase
Yuri Yamaoka as Ai Shindō
An updated staff list was also posted. All of the members are returning from the TV series:
Director: Taichi Ishidate
Screenplay: Jukki Hanada
Character Design: Miku Kadowaki
Art Director: Mikiko Watanabe
Setting: Hiroyuki Takahashi
Color Design: Kana Miyata
Yōmu Setting: Seiichi Akitake
Director of Photography: Ryuuta Nakagami
Sound Director: Yota Tsuruoka
Music: Hikaru Nanase

The website also lists new sets of pre-reserve tickets available for purchase.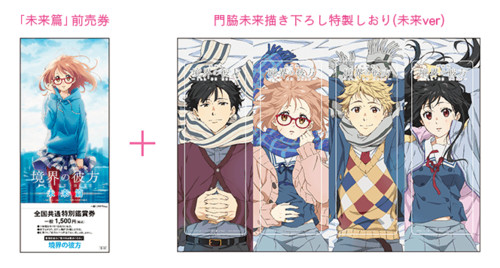 The Mirai-hen (seen top) and Kako-hen (seen bottom) will each bundle a ticket to their respective films, as well as bookmark sets. Each set will retail for 1,500 yen (about US$13), and went on sale on Saturday.
Kako-hen will recount the events of the television series, centering on the heroine Mirai Kuriyama, and a second film with the title Gekijō-ban Kyōkai no Kanata -I'll Be Here- Mirai-hen will be a brand-new work, set one year after the television series. Kako-hen will open in Japanese theaters on March 14, and Mirai-hen will premiere on April 25.
The dark fantasy television anime series follows a high school second-year student named Akihito Kanbara (KENN). Although the boy appears human, he is half Yōmu and invulnerable to wounds because he can heal quickly. One day, Akihito meets first-year student Mirai Kuriyama (Risa Taneda) when it seems she is about to jump from the school rooftop. Mirai is isolated because of her ability to manipulate blood, which is unique even among the Under World Warriors. Disturbing events begin to unfold after Akihito saves Mirai.
The television anime premiered in Japan in 2013, and Crunchyroll streamed the anime into several countries as it aired. Sentai Filmworks also announced that it licensed the anime for North America.
Nagomu Torii's original Kyōkai no Kanata light novel received an honorable mention in the novel category of the Kyoto Animation Award program in 2011.
Images © Nagomu Torii, Kyoto Animation/Kyōkai no Kanata Production Committee
---