News

One Piece Gets Limited Edition PS4 in Japan

posted on
Console has images of Luffy, Ace, Sabo
---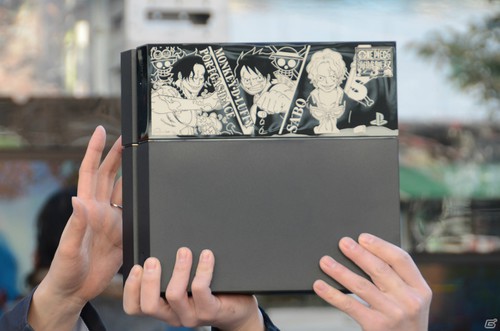 The staff of
Bandai Namco Games
' upcoming
One Piece
: Pirate Warriors 3 action game announced at the One Piece: Kaizoku Musō 3 premiere event at the Shinjuku Alta courtyard that the game is receiving a special edition
PlayStation
4 console in Japan. The console features images of Luffy, Ace, and Sabo.
The system will be sold from Sony's online store, and pre-orders will begin on Monday. The number of orders that are made will determine the number of systems that are produced.
One Piece: Pirate Warriors 3 was first announced last August. The game will debut in the Americas for the PlayStation 3, PlayStation 4, PlayStation Vita, and PC (via Steam) this summer.
The game will ship in Japan on March 26, but no Steam version has been announced for that country. First copies of the game will include an early unlock code to play as Sabo, a product code for Luffy's special costumes, and a serial code for a character in the smartphone game app One Piece Treasure Cruise.
The game will follow Luffy's journey from the beginning through the Dressrosa Arc. Omega Force is again developing the game, which will allow players to go through the One Piece story with improved graphics. Namco Bandai Games released the first One Piece Pirate Warriors in Japan on PlayStation 3 and later in Europe and America in 2012. The second game shipped in Japan for PlayStation 3 and PlayStation Vita and in Europe and North America for PlayStation 3 in 2013.
Source: Gamer via Hachima Kikō
---