News

Hanabee Announces Valentines Update for Online Streaming

posted on by Jon Hayward
---
The news was announced on Friday the 13th of February 2015 via a special you-tube video interviewing three people about Valentines Day with the end of the video revealing the acquisition and subsequent streaming of Monthly Girls Nozaki-kun. Four new series have been added to Hanabee.com.au which are available for free streaming, they are as follows;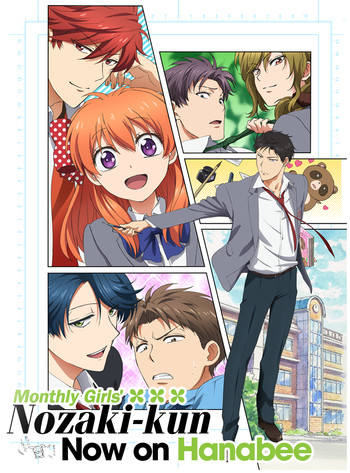 Monthly Girls Nozaki-Kun (Gekkan Shōjo Nozaki-kun)
When high-school student Chiyo Sakura decides it's time to act on her crush for Umetarō Nozaki, her confession of love is misunderstood and Nozaki gives Sakura an autograph. Confused but not deterred Sakura states that she always wants to be with him and soon after she ends up inside Nozaki's home and soon discovers that the mangaka behind her favourite shōjo manga (Let's Have a Romance!) and her classmate are one and the same person. Now closer than ever to Nozaki, Sakura gets a chance to develop her romance with Nozaki-kun. The only problem is the mountain of inking alongside Nozaki's complete and utter lack of understanding of romance and obliviousness to the feelings of the girls that surround him.
Created by Izumi Tsubaki as a 4-koma manga for Square Enix's Gangan Online, Monthly Girls Nozaki-Kun ran for 12 episodes from July 2014. The series was directed by Mitsue Yamazaki (Hakkenden: Eight Dogs of the East) with Yoshiko Nakamura (Hiiro no Kakera - The Tamayori Princess Saga) handling the scripts. Junichiro Taniguchi (Genshiken Second Season) designed the characters and the series was animated at studio Dogakobo.
In North America, Sentai Filmworks licensed the series in July 2014 and the series was streamed on CrunchyRoll as it aired.

Bodacious Space Pirates
Bodacious Space Pirates (Mōretsu Pirates) is set in the far future and centers around a spirited high school girl named Marika. Marika lives an ordinary life, spending her spare time between the space yacht club and her part-time job at a high-class retro café. One day, two people suddenly appear and claim to be subordinates of her dead father and they demand that she assume command of the space pirate ship Benten Maru. A privateer ship's compact was made during a war of independence a century ago and according to that compact, the ship must be inherited by the captain's next direct descendant. So for the Benten Maru to continue legal operation Marika becomes the ship's new captain and begins her life as a space pirate.
The title is an adaptation of Yuichi Sasamoto's Mini-Skirt Uchū Kaizoku (Mini-Skirt [Space] Pirates) space-opera novels. Tetsuo Sato (Martian Successor Nadesico, Stellvia) directed, wrote the bulk of the screenplay and oversaw the scripts. Art direction was handled by Akira Ito (Baccano! Durarara!! and Elfen Lied) with character design by Noriyuki Matsumoto. The series was originally screened in Australia through Crunchyroll in 2011. Hanabee originally announced the acquisition in August 2012 at Manifest and has since released the series on DVD and Blu-ray.

From the New World
Set 1000 years from today, From the New World follows five children, Saki, Satoru, Maria, Mamoru and Shun as they come to grips with their newly awakened curse of telekinesis in what appears to be a peaceful utopia. But like all utopias, a dark underbelly runs deep in the history of such a society and the five friends must throw themselves into a adventure to fight and protect a world on the brink of collapse.
Based on a novel by Yūsuke Kishi this 2012 series was directed by Masashi Ishihama (Read or Die animation director) at A-1 Pictures with head scriptwriter Masashi Sogo (Bleach, Fairy Tail, Gantz). CrunchyRoll streamed the series as it aired in Japan and Sentai Filmworks licensed and released the title in North America.
Hanabee announced From the New World in February 2014 and released the first volume of the series on DVD and Blu-ray in May 2014.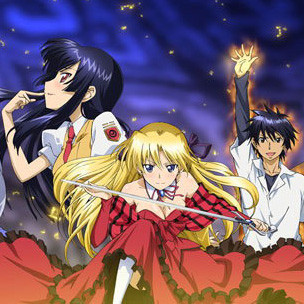 Campione!
Godō Kusanagi went on a errand for his grandfather and ended up killing Verethranga, the god of war. In doing so Godō became a Campione, one who kills gods and is handed the responsibility to fight heretical gods who mess with the natural order of humanity and other Campiones to protect his title.
The series is based on a series of light novels by Jō Taketsuki that has additionally been adapated into a manga series. This 13 episode anime adaptation was directed by Keizou Kusakawa (Dog Days, Ro-Kyu-Bu!) off scripts supervised by Jukki Hanada (Princess Jellyfish, Rozen Maiden). Masakazu Ishikawa (Squid Girl) designed the characters and Tatsuya Katou (Horizon in the Middle of Nowhere, MEDAKA BOX) scored the music. The series originally aired in July 2012 and was streamed by CrunchyRoll alongside the Japanese broadcast and quickly licensed by Sentai Filmworks in North America.
Hanabee announced Campione! in February 2014 and released the series on DVD and Blu-ray in May 2014.
---