News

Ben-To and Good Luck Girl Release March 16

posted on by Andrew Osmond
---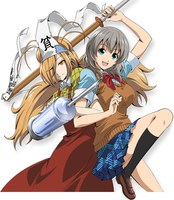 Manga Entertainment has confirmed its release dates for Ben-To and Good Luck Girl!, both due on March 16. (Yu-Gi-Oh! Season 2 has a confirmed release on March 30.)
Good Luck Girl! (right) - Yōichi Fujita (Gintama') directed the series at Sunrise with Kento Shimoyama (Bleach) handling series composition. Kenji Tanabe (Naruto Shippūden the Movie: Bonds ) designed the characters. The story revolves around Ichiko Sakura, a girl whose blissful life comes from her bountiful "happiness energy" — gained by sapping that energy from other people. To restore the balance, the Binbō-gami (Poverty God) Momiji Binbada attempts to eliminate her.

Ben-To (left) - Funimation described the story based on Asaura's "school serious/gag action" light novel series. 'Every day an epic struggle rages in grocery stores across Japan—the battle for half-priced bento boxes! Once the discount stickers go on, ravenous brawlers start throwing punches in a knockdown, drag-out war over who gets to take home the cheap eats. When a young, broke high school student named Sato joins the Half-Priced Food Lovers Club, he proves to be a rising talent in the world of insane food fights. But does he have what it takes to become the king of clearance cuisine?'
Shin Itagaki (Devil May Cry, Mayoi Neko Overrun!) directed the 2011 anime, and he was also responsible for story editing (with Kazuyuki Fudeyasu of Bleach, Monster and Gunslinger Girl) and design works. Katsuzo Hirata (Cosplay Complex, Hand Maid May) served as both the character designer and the chief animation director. Taku Iwasaki (Black Butler, Gurren Lagann, Soul Eater) composed the music.
---