News

2nd PriPara TV Anime Season Adds Yui Watanabe, Yui Makino to Cast

posted on by Sarah Nelkin
Voice actresses play devil-like, angel-like
PriPara
idols in April sequel to anime for girls
---
The official website for the television anime adaptation of Syn Sophia's PriPara arcade game for girls announced on Saturday that Yui Watanabe and Yui Makino will be joining the cast of the anime's second season.
Watanabe will play Mikan (seen left in the images below), an angelic idol who thinks she's actually a servant of the gods, while Makino will play Aroma (seen right), a girl who thinks she's a servant of the underworld. Aroma constantly wants curses put on herself, while Mikan wants to break the curses on her.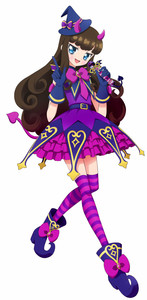 The website also hints that the two characters will appear in the upcoming Gekijō-ban PriPara Mi~nna Atsumare! Prism Tours film that will premiere on March 7. The story of the film will change depending on the day that it is screened, with various versions prepared.
The story of the second season continues with Laala and her friends Mirei and Sophy, who are part of the "SoLaMi♡SMILE" PriPara idol unit, which is rising in popularity. In the PriPara amusement park, a new zone called "Dream Theater" has opened, and it's said that when a fateful five-man team filled with charm that performs there, a new event called the "PriPara Dream Parade" will be held. However, it is not known which five people make up this team, and the PriPara idols scramble give the greatest performance in the new zone.
The sequel to the first anime series inspired by SynSophia's arcade game for girls that premiered in July was announced at the PriPara x Pretty Rhythm Christmas event in December. The film uniting PriPara and Pretty Rhythm heroines,
[Via Moca News]
---