News

Saint Seiya: Soul of Gold's Global Streaming Announced in Promo Video (Updated)

posted on by Sarah Nelkin
ROOT FIVE
return to perform theme songs for series premiering April 11
---
The official website for the Saint Seiya -Ōgonkon- (Saint Seiya: Soul of Gold) anime began streaming a new promotional video for the anime. The video informs fans that the anime will premiere on the Bandai Channel streaming service on April 11. Other websites will stream the anime outside of Japan.
Saint Seiya Soul of Gold PV2
投稿者 pKjd
Text: The legend is released.
Text: In order to break the wall of grief... There were men who burned up the flames of their vigor.
Text: Starlight Extinction!
Text: Great Horn!
Text: Galaxian Explosion!
Text: Tenma Kofuku!
Text: Royal Demon Rose!
Text: Scarlet Needle!
Text: Sekishiki Meikai Ha!
Text: Rozan Hyaku Ryū Ha!
Text: Aurora Execution!
Text: Excalibur!
Text: Atomic Thunderbolt!
Text: Lightning Bolt!
Text: Crossing over eternity, the twelve golden saints gather!
Narrator: The place where the gold saint, Leo Aioria awoke was on the Earth, a place overflowing with light. Just what happened to him after he burned out his life at the Wall of Grief searching for Seiya? And what is the new mystery of Lucross? The cosmos is revived once again. Saint Seiya: Soul of Gold. Have you ever felt the cosmos? Beginning global streaming on April 11!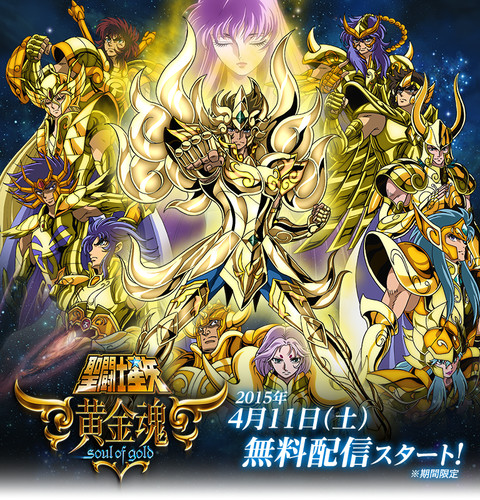 In addition, the website announced that band ROOT FIVE will perform both the opening and ending themes. The opening theme will be a remake of the song "Soldier Dream," while the ending will be titled, "Yakusoku no Asu e" (To the Promised Tomorrow.) The band also performed the third opening theme song for the Saint Seiya Omega anime.
The cast for the anime is as follows:
Takeshi Furuta (Saint Seiya Omega storyboards, director on The Comic Artist and His Assistants) is helming the anime, and Toshimitsu Takeuchi (scripts on Reideen, Ikki Tousen: Xtreme Xecutor, Chō Soku Henkei Gyrozetter) is in charge of the series scripts. Hideyuki Motohashi (Saint Seiya: The Lost Canvas animation director, B't X, Ceres, Celestial Legend, Fushigi Yugi) is designing the characters.
Masami Kurumada's original mythological fantasy manga ran in Shueisha's Weekly Shonen Jump magazine from 1985 to 1990, and it has over 34 million copies in print worldwide. The manga quickly inspired a 1986 television anime series that was popular not only in Japan, but also in France, Italy, other parts of Europe, Brazil, other parts of South and Central America, and Asia. The anime aired in more than 80 countries.
Saint Seiya Omega, a sequel to the first anime, aired from April 2012 to March 2014. A decade after the last Saint Seiya film, 2004's Saint Seiya Tenkai-hen Jōsō ~Overture~, a new CG film directed by Keiichi Satou (Tiger & Bunny, Ashura) opened last June.
Update: Bandai Channel is not streaming the series outside of Japan. Crunchyroll is streaming anime series in various countries outside of Japan. Anime Consortium Japan is also streaming the series in 220 countries outside of Japan on the Daisuki website. Bandai Channel is streaming the series in Japan only.
Thanks to Dennis for the embedded video.
---