News

Aquarion Gets 3rd TV Anime, Aquarion Logos, in July

posted on by Egan Loo
Nobunaga Shimazaki, Ayane Sakura, Yūto Adachi star with songs by May'n, Haruka Chisuga
---
The Aquarion 10th Anniversary event at AnimeJapan 2015 unveiled the new Aquarion Logos television anime, the Sōsei no Aquarion Love original video anime, and a stage play on Saturday.
Text: Aquarion Franchise's 10th Anniversary Work
Maia: Sōsei*
Maia: We're going to release humans from the wedge called "letters." A world where people connect heart-to-heart is our utopia.
Text on passersby: Person
Text on scenery: Building, tree
Text from book: Sōsei
Text on screen: Sōsei
Akira: I was waiting for this time! I'm going to save it...! With these hands!
Maia: This is different from the time with Subete! This is the first time for something like this...! It feels so good!!
Akira: Sōsei fusion! Scream!
Both: Aquarion!!
* Sōsei, literally the "voice of creation," is a newly coined term, and it is different from the "Sōsei" (Genesis) in the Japanese title of the first Aquarion anime.
Aquarion Logos, the third Aquarion television season, will premiere in July and feature the following cast and characters (from top left to bottom right in the image below):
Nobunaga Shimazaki as Akira Kaibuki
Ayane Sakura as Maia Tsukigane
Yuto Adachi as Subete Kenzaki
Haruka Chisuga as Kokone Kikogami
Yuichiro Umehara as Hayato Kujyo
Takayuki Asai as Tsutomu Domon
Ari Ozawa as Karan Uminagi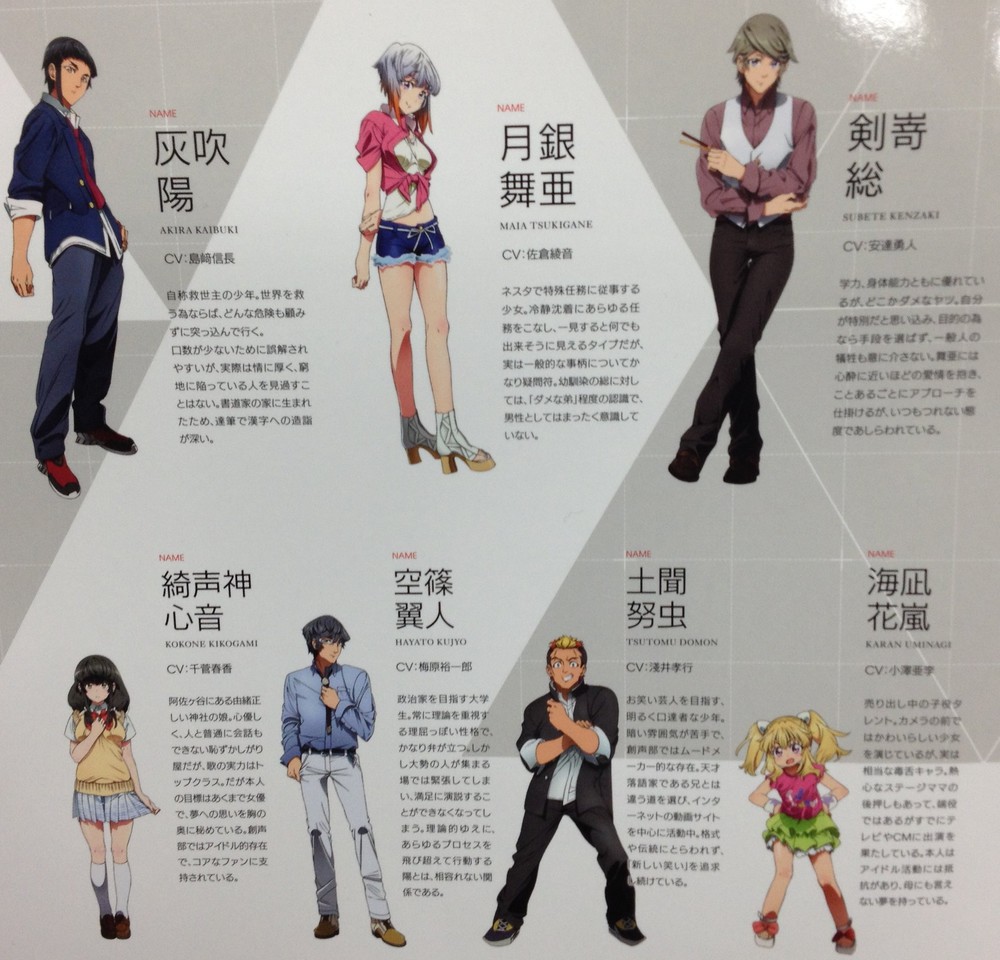 The staff includes:
Original creators: Shoji Kawamori, Satelight
Director: Eiichi Sato
Assistant Director: Daisuke TSUKUSHI
Series Script Supervisor: Jun KUMAGAI
Scripts: Jun Kumagai, Yuniko Ayana, Mariko Mochizuki
Character Design/Chief Animation Director: Takashi Mamezuka
Sub-Character Design, Prop Design/Chief Animation Director: Ayana NISHINO (C2C)
Original Costume Design: Risa Ebata
M.J.B.K Design: Shinichi Miyazaki
Mecha Design: Stanislas Brunet, Yukio IKEDA
CG Producer: Takashi Aotani
CG Director: Hiroyuki Gotō
Monitor Graphics: Hiromitsu Ishikawa
Music: R.O.N
Music Production: FlyingDog
Sound Director: Youji Shimizu
Sound Production: Kaga Electronics, Tohokushinsha Film Corporation
Animation Production: Satelight, C2C
Production: Project Aquarion Logos

May'n and Haruka Chisuga will perform the opening and ending theme songs, respectively.
---