×
remind me tomorrow
remind me next week
never remind me
Subscribe to the ANN Newsletter • Wake up every Sunday to a curated list of ANN's most interesting posts of the week.
read more
News

Sanrio's Show by Rock Anime Posts 2nd Video, New Visual

posted on by Egan Loo
---
The official website for the television anime of Sanrio's mobile rhythm game Show By Rock!! unveiled the second animated promotional video on Saturday.
Cyan: I'm normal and a bit introverted, but I love music… But one day, suddenly…!
Cyan: Wh-What is this!? No waaaaaay!?
Cyan: I wandered into a game world!? Why am I in this kind of a place!?
Cyan: Um…! I…! I want to be in a band!
Text: Now, fates intersect
Cyan: The best friends, and the best music! I'm sure if anyone has music, they can get their message across! Show By Rock! Broadcast starting in April 2015! Look forward to it!

The anime's official website also posted a new key visual of the four Plasmagica band members in a live concert:

Sanrio describes the story of the original game on its website:
Metropolis of music, MIDICITY. A kitty girl wearing gothic lolita clothing named Cyan is scouted by Maple Arisugawa, the president of a music agency. From there, she meets Chuchu (a pun off of the sound that rabbits make) the honor student rabbit girl, a net geek dog girl named Retoree (from "Retriever"), and an alien sheep (?) girl named Moa. Together, they form the band named "Plasmagica," and aim for the top of the world.

However, the path there is long and tough, and keeping in high spirits is important. By battling against other strange bands, Plasmagica slowly grows toward a top-grade band. In the end, they'll be a band that becomes the driving force of MIDICITY's music industry... Maybe?

Gonna be a music millionaire!
The cast members and characters include:
Plasmagica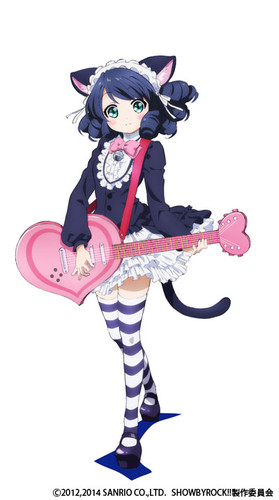 Eri Inagawa (Pac-World) as Cyan, the gothic lolita kitty and leader of Plasmagica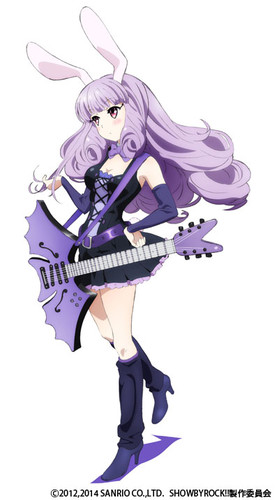 Sumire Uesaka (Hozuki no Reitetsu, Listen to Me, Girls. I Am Your Father!) as Chuchu, the honor student bunny

Manami Numakura (The Idolm@ster, Shirobako) as Retoree, the net geek dog

Ayane Sakura (Dream Eater Merry, Love Lab) as Moa, the alien sheep (?)
ShinganCrimsonZ

Kishô Taniyama (Attack on Titan, The Unlimited - Hyōbu Kyōsuke, Junjō Romantica) as Crow, the guitarist and vocalist

Kouki Uchiyama (Soul Eater Not!, Nisekoi) as Aeon, the guitarist

Tetsuya Kakihara (Fairy Tail, Pretty Rhythm Rainbow Live) as Yaiba, the bassist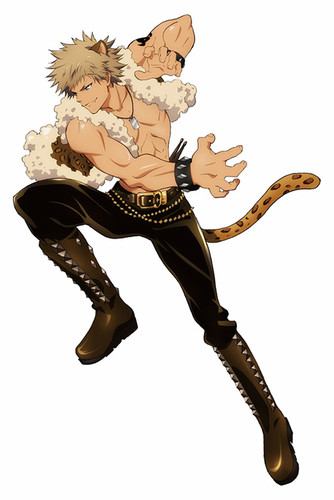 Yoshimasa Hosoya (One Week Friends, Terraformars) as Rom, the drummer
Tsurezurenaru Ayatsuri Mugenan

Megumi Han (Hunter × Hunter, Terror in Resonance) as Tsurezurenaru Ayatsuri Mugenan leader and drummer Daru Dayu

Eriko Matsui (Engaged to the Unidentified, Girl Friend BETA) as bassist A

Saori Hayami (MM!, Bakuman.) as guitarist and vocalist Un
Trichronika

Mamoru Miyano (Valvrave the Liberator, Steins;Gate) as Shū☆zō (seen center in the image above), the guitarist and vocalist for Trichronika
Ryota Ohsaka (Denkigai no Honya-san, Nagi no Asukara) as Kai (seen right), the drummer
Ayumu Murase (Wolf Girl & Black Prince, Haikyu!!) as Riku (seen left), the bassist.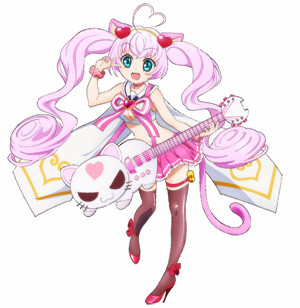 Rina Hidaka (Ro-Kyu-Bu!, Unlimited Fafnir) as Logia, the leader of Criticrista, and is in charge of vocals and guitar. Within the student council, she handles the job of secretary and treasurer. Although she has quite the selfish personality, she grasps her fans' hearts with her clever words and gestures.

Ai Kayano (Dream Eater Merry, Nagi no Asukara) as Tsukino, a member who handles vocals and keyboard. Within the student council, she is a member of the beautification commitee. Due to her living in the mountains before she entered Midi Junior High, she is quite naive of the workings of society.

Rie Murakawa (Is the order a rabbit?, Atelier Escha & Logy: Alchemists of the Dusk Sky) as Jacqueline, who handles vocals and drums. Within the student council, she serves as the vice-president. She has an energetic and kind personality, and is trusted by all the other members.

Hiromi Igarashi (Listen to Me, Girls. I Am Your Father!, Amnesia) as Holmy, a girl who handles vocals and bass. She serves as the student council's president. When she entered the school, she was a very normal student, but due to her talent with music she was allowed to enter the celebrity section of the school. She has a serious and worry-wart personality.
Takahiro Ikezoe (Slap Up Party: Arad Senki, Ozma) is directing the project at animation studio BONES (Soul Eater Not!, Fullmetal Alchemist), while Touko Machida is handling series composition. Masaru Oshiro (Ie Naki Ko Remi, Major) is designing the characters, while Ryō Hirata (Appleseed XIII, Chaika - The Coffin Princess) will provide supporting character design and prop design. Fumihiro Katagai (Chaika - The Coffin Princess, Shangri-La) is credited with concept and mecha design.
The remaining staff is as follows:
Head animator: Tomokatsu Nagasaku
Color design: Fusako Nakao
Art design: Naomi Ogura
Art director: Hatsumi Kumano
Director of photography: Tsuyoshi Kanbayashi
CG design: Studio Goonies
CG Director: Ryou Sasaki
Editing: Kumiko Sakamoto
Sound director: Masafumi Mima
Sound effects: Shizuo Kurahashi
Music: Yasuharu Takanashi, Rega Sound
Music production: Pony Canyon
The anime will premiere on April 5 at 10:00 p.m. on Tokyo MX and will show every Sunday, with a rerun every Wednesday at 6:30 p.m. It will also be shown on the Yomiuri TV and BS11 channels. The anime will be Sanrio's very first anime that will air in a late-night timeslot. Plans for a manga series are also underway.
---