News

Madman Entertainment Announces Parasyte: Part 1 Theatrical Screenings

posted on

2015-03-27

05:00 EDT by Jon Hayward
Australia to receive one-day-only theatrical screenings across the country for live-action adaptation of
Parasyte
;
---
Madman Entertainment announced the news today via press-release and their facebook page. The announcement states that Parasyte: Part 1 will be released in cinemas across Australia for a special one-day-only event on Saturday the 26th of April 2015. Further information including locations and on-sale dates for tickets will be released in the near future.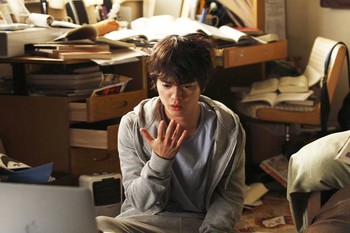 Parasyte: Part 1
"Parasyte: Part 1 tells the story of Shinichi Izumi, an ordinary high school student who is attacked by an alien parasite – a mysterious worm-like creature which penetrates the ears or nose of an ordinary human, attaching itself to the brain and eventually taking over the entire body. Whilst Shinichi is able to fight off the parasite before it reached his brain, it remains within his right hand.

Shinichi Izumi and the parasite now live as one. They both come to understand that if one dies, then so will the other. In a bid to survive, they join forces to fight against the threat of other parasites." - Madman Entertainment
Parasyte: Part 1 is the first of two live-action adaptations by director Takashi Yamazaki (live-action Space Battleship Yamato, Always: Sunset on Third Street) with scripts by Ryūta Kosawa (Always: Sunset on Third Street, Shōnen H). Shōta Sometani (live-action xxxHOLiC, All Esper Dayo!) stars in the films as Shinichi Izumi, Eri Fukatsu (Onnanoko Monogatari) plays Ryōko Tamiya, and Ai Hashimoto (Blood-C: The Last Dark, live-action Another, Sadako 3D) plays Satomi Murano.
Parasyte: Part 1 premiered on the 29th of November 2014 and took #1 at the Japanese box office, selling about 256,200 tickets for about 340 million yen on 418 screens. Parasyte: Part 2 will open on the 25th of April 2015.
Parasyte is based on Hitoshi Iwaaki's original manga which ran in Kodansha's Afternoon magazine from 1990-1995. The 10-volume series (later reprinted in an eight-volume version) has more than 11 million copies in print. Mixxine, the company that eventually became Tokyopop, published Parasyte in its Mixxine magazine and later in compiled book volumes. Del Rey then republished the series from 2007-2009, and Kodansha Comics republished the manga again from 2011-2012.
The manga also inspired a television anime, Parasyte -the maxim-, which premiered on NTV in October 2014. Crunchyroll streamed the series as it airs in Japan.
ANN published a review of Parasyte after the film premiered in Japan, you can read Richard Rowland's thoughts on the film here.
---