News

Persona 4: Dancing All Night PS Vita Game's Chie Promo Streamed

posted on by Sarah Nelkin
Yui Horie voices kung fu-loving girl in June 25 spin-off rhythm game
---
Atlus began streaming a new promotional video starring the Persona 4 character Chie Satonaka for its Persona 4: Dancing All Night PlayStation Vita rhythm game on Friday. The video features a remix of the Persona 4 theme song "Pursuing My True Self" by Shihoko Hirata.
Chie: OK, let's do this! Take a look at my Satonaka-style dance moves! Wa-cha!
Chie: So, where is this in the first place? It's pretty certain that this isn't the inside of the TV, right?
Chie: Like, you know, isn't there something like a hint or something? ...If possible, nothing related to ghosts and stuff, please.
Chie: That seriously pisses me off! He says all he wants, then runs away!
Chie: Even if it hurts, even if it's hard, all we can do is try and find someone who we can talk about ourselves to!
Chie: What we have to do hasn't changed since back then.
Chie: Phew, things are getting hot in here! Here we go!
Chie: I'm afraid of getting hurt, but even so, I know this is wrong! Even I'm afraid of getting hated, but because everyone accepted me, I can stay with them. I'll make sure to convey the importance of that kind of thing!
Chie: we're the special investigation team! It's a given that we save people in trouble.
Chie: Let's just get this all cleaned up, and then deal with the rest when we get back.
Chie: Let's do this, Shadows! With my kung fu dance, I'll make you move to my beat!
Chie: All right! Meat power max! Let's blast right through! Persona 4: Dancing All Night!
The game will be released in Japan on June 25, and first copies will come bundled with a Blu-ray containing footage from Persona 5. A special "crazy value pack" will be released on the same day, and will contain a collector's box with an original illustration, the PS Vita game, a 2-disc original soundtrack, as well as three pieces of DLC, which will include things like costumes. A "premium crazy box" will be also be released, and the box contains the crazy value pack, as well as a limited edition PlayStation Vita system with a Persona 4: Dancing All Night design.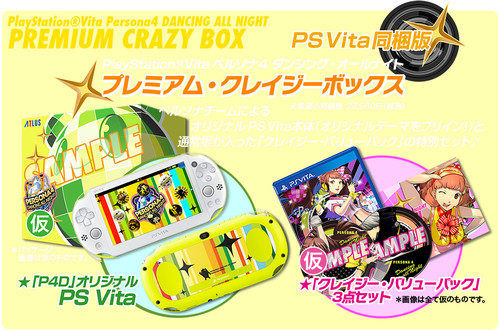 The game was originally slated for last fall but was delayed until this year. The website also previously listed Dingo as a developing partner, but now only lists Atlus and Sega.
The story of the game begins half a year after the Inaba City serial murder case was solved and Rise Kujikawa returns to the world of entertainment. As rumors begin spreading that "at midnight, if you see a strange video playing on a certain site, you are transported to the 'other side' and will never wake up again," members of the idol group "Kanamin Kitchen," which includes Rise's underclassman Kanami Mashita (voiced by Minako Kotobuki), are disappearing.
In the game, the "Hero," Rise, Kanami, Yosuke, Chie, Kanji, Yukiko, Naoto, Nanako, and other Persona 4 characters engage in a "dance battle" with the Shadows in the mysterious world of 'Mayonaka Stage.'"
Atlus USA confirmed that it will release the game in North America.
---