×
remind me tomorrow
remind me next week
never remind me
ANN Reader Survey • If you haven't had a chance yet, please fill out our annual survey, It's so helpful to us. As a thank you for filling out this massive survey, we're giving away 100 ANN subscriptions to people who fill it out.
read more
×
remind me tomorrow
remind me next week
never remind me
Subscribe to the ANN Newsletter • Wake up every Sunday to a curated list of ANN's most interesting posts of the week.
read more
News

39th Annual Kodansha Manga Awards' Nominees Announced

posted on by Crystalyn Hodgkins
---
Japanese publisher Kodansha announced the nominees on Friday for its 39th annual Manga Awards, honoring 14 titles across three categories. The winner for each category will be announced on May 12.

Best Shōnen Manga

DAYS
Tsuyoshi Yasuda
Serialized in Weekly Shonen Magazine (Kodansha)
Two boys met on a stormy night: Tsukushi, a boy with no special traits at all, and Jin, a soccer genius. On that night, Jin drags Tsukushi into the world of high school soccer.

The Seven Deadly Sins
Nakaba Suzuki
Serialized in Weekly Shonen Magazine (Kodansha)
Summary from Kodansha Comics: "When they were accused of trying to overthrow the monarchy, the feared warriors the Seven Deadly Sins were sent into exile. Princess Elizabeth discovers the truth - the Sins were framed by the king's guard, the Holy Knights - too late to prevent them from assassinating her father and seizing the throne!
Now the princess is on the run, seeking the Sins to help her reclaim the kingdom. But the first Sin she meets, Meliodas, is a little innkeeper with a talking pig. He doesn't even have a real sword! Have the legends of the Sins' strength been exaggerated?"


Hinomaru-Zumō
Kawada
Serialized in Weekly Shonen Jump (Shueisha)
Summary from Shueisha: "It is a divine ritual, a martial art, a combat sport—it's sumo!!
A "small" new student, Ushio Hinomaru, appears before the weak little sumo club of Oodachi High School! The words "big" and "heavy" are the rules to this sport, which does not fit this newbie any inch, but this guy goes and does what...!?
Ushio and the small sumo club climbs its way to the top!
The goal is Hinoshita Kaisan! [A title for the highest rank in professional sumo, equivalent of Yokozuna.]
A fired up high school sumo tale—no retakes allowed!!


Yowamushi Pedal
Wataru Watanabe
Serialized in Weekly Shonen Champion (Akita Shoten)
The story centers around Sakamichi Onoda, a high school otaku who loves figures from anime and games so much that he would ride his commuter bicycle to and from Tokyo's Akihabara shopping district in a 90-kilometer (about 60-mile) round trip over steep slopes. Onoda ends up joining the competitive sport of bicycle racing.


Best Shōjo Manga

Wolf Girl & Black Prince
Ayuko Hatta
Serialized in Bessatsu Margaret (Shueisha)
The story centers around Erika Shinohara, a vain 16-year-old girl who tells her friends about her romantic exploits, but she actually has no boyfriend. She claims that a handsome boy in a candid photo is her boyfriend, but it turns out that boy is a schoolmate named Kyōya Sata. She has no choice but to make him her fake boyfriend. Unfortunately, Sata may look like a sweet person, but he is actually an ultra-black-hearted sadist. Sata takes advantage of Erika's weakness and treats her like his dog.

Shōgakusei no Himitsu
Mikayo Nakae
Serialized in Nakayoshi (Kodansha)
The story follows female elementary school students and their worries, such as the first time a male childhood friend makes one student's heart beat faster, or as one student's body suddenly starts to change. The manga tells the stories of the secrets that no one talks about, but that everyone worries about.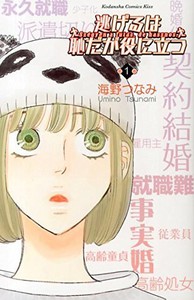 Nigeru wa Haji da ga Yaku ni Tatsu
Tsunami Umino
Serialized in Kiss (Kodansha)
Mikuri Moriyama has a graduate degree, but because of job scarcity she can only find temporary employment. She finds work as a personal housekeeper for Hiramasa Tsuzaki, a subordinate at her father's company. When her parents decide to move to the countryside for retirement, Mikuri is running out of time to find a more permanent job. Torn about what to do, Tsuzaki suddenly proposes to Mikuri, and the two enter a "contract marriage" since Mikuri wants to let her parents move to the countryside without worry and Tsuzaki doesn't want to hire another housekeeper.


Liar x Liar
Renjuro Kindaichi
Serialized in Dessert (Kodansha)
20-year-old Minato one day borrows her friend's old high school uniform and goes out on the town. While she's out, she bumps into her younger step brother Tooru. Minato somehow convinces Tooru that she's a different person. Tooru then falls in love with this fake high school version of Minato, and the two begin dating.


Kiss Him, Not Me
Junko
Serialized in Bessatsu Friend (Kodansha
Summary from Crunchyroll: "Kae Serinuma is what you'd call a "fujoshi." When she sees boys getting along with each other, she loves to indulge in wild fantasies! One day her favorite anime character dies and the shock causes her to lose a ton of weight. Then four hot guys at school ask her out, but that isn't exciting to her at all — she'd rather see them date each other!"


Best General Manga

Onna no Ie
Akane Torikai
Serialized in Be Love) (Kodansha)
The story centers on 29-year-old Yuuka, who was just dumped by her boyfriend, and her 25-year-old younger sister Sumika. The two return to their mother's hometown of Osaka since their mother has a serious illness. Her mother suddenly gives Yuuka a "mother's order": Yuuka must move with her and Sumika to live together in Tokyo. The manga tells the story of the "women only" household of two sisters and their mother.

Kasane
Daruma Matsuura
Serialized in Evening (Kodansha)
Kasane is an ugly girl who is severely bullied by her classmates because of her appearance. Kasane's beautiful late mother bequeathed her one tube of lipstick, and that lipstick changes Kasane's fate in a big way.


Kōnodori
Yū Suzunoki
Serialized in Morning (Kodansha)
The human drama follows the life of obstetrician Sakura Kōnotori, who also moonlights as a jazz musician. In Japan, childbirth is not considered an illness, and so insurance does not cover normal childbirth. Obstetric care does not mean that an injury or illness is being cured. For a normal childbirth, an obstetrician isn't necessary, but if something happens, an obstetrician becomes necessary.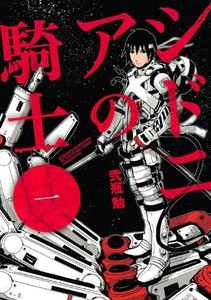 Knights of Sidonia
Tsutomu Nihei
Serialized in Afternoon (Kodansha)
The story takes place after humans flee Earth due to the devastating invasion of alien creatures called Gauna. Humans travel through space in giant ships while the Gauna continue to pursue them. As a new human culture develops, people fight the Gauna with Morito (Guardian) robotic mecha. A young man named Nagate Tanikaze trains as a Morito pilot aboard the spaceship Sidonia and defends its people from Gauna attacks.


ReLIFE
Yayoiso
Serialized in comico (NHN PlayArt / Earth Star Entertainment)
Arata Kaizaki is an unemployed, single 27-year-old who has just been cut off from his parents' financial support. Unable to find a job due to his leaving his previous employer within three months, he is stuck. One night after drinking with a high school friend, Arata meets Ryō Yoake, a man who offers Arata pills to turn him back into a 17-year old so he can redo his life. After agreeing to the experiment, Arata joins a high school class, and meets Chizuru Hishiro, a socially awkward silent beauty who yearns to have friends. Through connecting with her and other classmates, Arata must find what he lacks to live a happy life in the real world within a one-year time limit.

In past years, Kodansha gave out a "Best Children's Manga" award as well, but starting this year Kodansha has integrated the nominees for that category into the Best Shōnen Manga and Best Shōjo Manga categories instead.
Last year, Noriyuki Konishi's Yo-kai Watch manga won the Best Children's Manga award, Hikaru Katsuki's Baby Steps manga won the Best Shōnen Manga award, Taamo's Taiyō no Ie manga won the Best Shōjo Manga award, and Haruko Kumota's Shōwa Genroku Rakugo Shinjū manga won the Best General Manga award.
Source: Comic Natalie
---