News

Boruto -Naruto the Movie-'s Inojin, Shikadai, Chōchō Designs Unveiled

posted on by Sarah Nelkin
Film starring new protagonist
Boruto
to premiere on August 7 in Japan
---
This year's combined 22nd and 23rd issue of Shueisha's Shonen Jump magazine is revealing the designs for Inojin, Shikadai, and Chōchō for the upcoming Boruto -Naruto the Movie- film on Monday.


[Highlight white text to read the character summaries below, which contain spoilers]
[The text below Inojin's image reads, "His beautiful looks are from his father! ...Ino and Sai's child. He seems to be serious and intelligent."
Shikadai's image reads, "He looks exactly like his father! ...Does his strong-looking expression of competitiveness come from Temari!?"
Chōchō's description reads, "A pudgy girl! ...Her body type is inherited from Chōji, and the color of her skin is from Karui."]
Yuko Sanpei will play Boruto (pictured top left in image below) and Kokoro Kikuchi will play Sarada (pictured top right). Junko Takeuchi will return to play Naruto Uzumaki, and Noriaki Sugiyama will return to play Sasuke Uchiha.

Original Naruto manga creator Masashi Kishimoto is credited with the original story, script, and character designs, as well as the chief production supervisor, for the film. Hiroyuki Yamashita (Naruto Shippūden episode director, Road to Ninja: Naruto the Movie animation director) is directing the film, and Ukyō Kodachi (Chaos Dragon, Neppu Kairiku Bushi Road) is collaborating with Kishimoto on the script.
The film will open in Japanese theaters on August 7.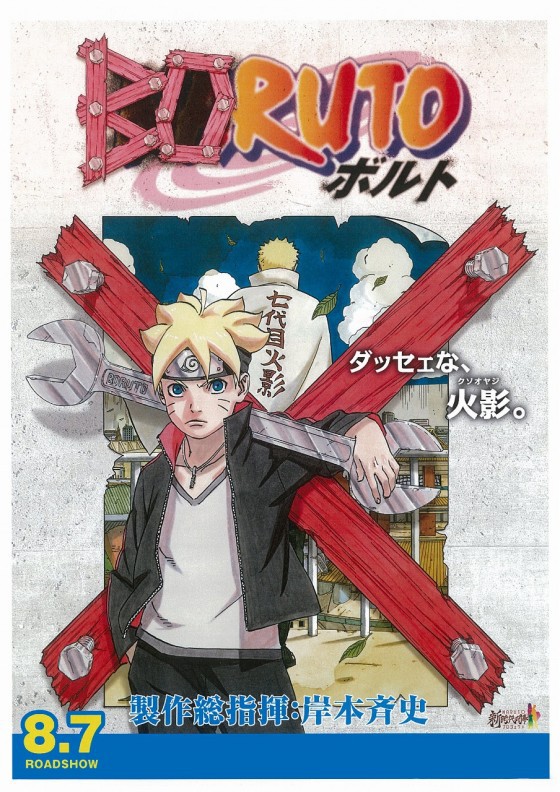 Boruto -Naruto the Movie-, the upcoming film sequel to the Naruto manga and The Last -Naruto the Movie-, will tell the story of [Highlight white text to read spoilers] Boruto, Naruto Uzumaki and Hinata Hyūga's son who appeared in the 700th and final chapter of the manga. Kishimoto noted, "I conceived a story in which Boruto and [Sasuke's daughter] Sarada appears. Sasuke and Sakura also appear." He also conceived of Boruto's special fighting move.
---