×
remind me tomorrow
remind me next week
never remind me
Subscribe to the ANN Newsletter • Wake up every Sunday to a curated list of ANN's most interesting posts of the week.
read more
News

Chaos Dragon TV Anime's Machi Asobi Promo Video Previews Story

posted on by Crystalyn Hodgkins
TV series based on "role-playing fiction" story to premiere in July
---
The official website for the Chaos Dragon project began streaming a Machi Asobi promotional video for the upcoming anime on Monday. The staff previously showed the trailer at the "Machi Asobi 14" event in Tokushima.
Narrator and Text: Our country's name is Nil Kamui. It's a small country. The covetous ancient country Kōran suddenly attacked, and pillaged 30% of our land. A large allied country to the east named Donatia stayed silent and only protected its own bases. Nil Kamui was suddenly cut up and discarded like a sacrificial pig by two large countries. September 3015 of the sparkling era. Our country was no longer ours.
Text: Ibuki x Simadoriru
Text: Soirot x Kinoko Nasu
Text: Ro Chenfa x Gen Urobuchi
Text: Eiha x Izuki Kōgyoku
Text: Kagraba x Ryohgo Narita
Text: The guardian diety of the island that suddenly fell into madness, "The Red Dragon."
Text: Surrounding that power, the decisive battle will start.
The anime will premiere on Tokyo MX TV and other stations in July.
The project is based on Red Dragon, the "role-playing fiction" story born from the "table talk role-playing game" sessions by five prominent anime, game, and art creators. The five Red Dragon participants were Gen Urobuchi (Phantom ~Requiem for the Phantom~, Puella Magi Madoka Magica, Fate/Zero), Kinoko Nasu (Kara no Kyōkai - the Garden of sinners, Fate/stay night, Lunar Legend Tsukihime), Izuki Kōgyoku (Mimizuku to Yoru no Ō, Mama, Garden Lost), Simadoriru (illustrator), and Ryohgo Narita (Baccano!, Durarara!!). Each participant created a character to guide through six nights of tabletop role-playing game sessions devised by "fiction master" Makoto Sanda (Rental Magica).
The story takes place in the sparkling era year 3015, where the great nations Donatia and Kōran divide the world in a cold war as they fight for supremacy. In the middle of this standoff is island country Nil Kamui, which has lost its independence.
The characters are:

Ibuki, a descendant of the royal family of Nil Kamui. Created by Simadoriru.


Eiha, Ibuki's guardian who is fused with a demon. Created by Izuki Kōgyoku.


Soirot Clasbari, a member of Donatia's prized black dragon knights. Created by Kinoko Nasu.


Ro Chenfa, an assassin from a religious organization in Kōran. Created by Gen Urobuchi.


Kagraba, a mysterious immortal trader from the independent city of Haiga. Created by Ryohgo Narita.


Meril, Soirot's follower.

Masato Matsune (Fate/Prototype CG supervisor, Meganebu! opening storyboarder and animation director) is directing the television anime at SILVERLINK./CONNECT. Team Barrel Roll's Ukyō Kodachi (Neppu Kairiku Bushi Road, Macross Frontier novels) is in charge of the series scripts with assistance by Shou Aikawa (Fullmetal Alchemist, Ghost Slayers Ayashi, EUREKA SEVEN AO).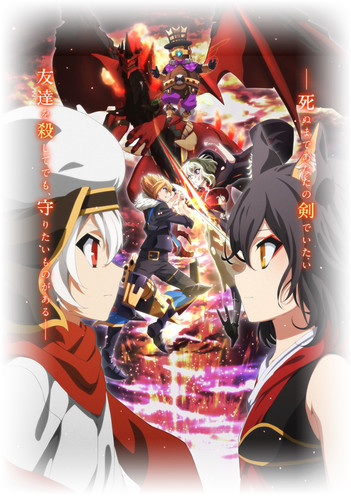 Sanda was once part of Group SNE, the famous creative unit that made the Record of Lodoss War franchise. Like Red Dragon, Group SNE initially created Lodoss as a series of role-playing game sessions. The creators then turned their campaign transcripts into a series of novels that spawned anime, manga, and more.
Sanda designed the Red Dragon world with Kiyomune Miwa (Fate/stay night, Rental Magica collaborator) and Ukyō Kodachi (Macross Frontier novels). Hitoshi Sakimoto (Final Fantasy XII, Tactics Ogre, The Tower of Druaga: The Aegis of Uruk) is composing the music. Katsushi Ota, the editor best known for Kodansha's literary magazine Faust, is producing the project.
Also as part of the project, there will be a board game titled Chaos Dragon: Haō Shunjū. The "story-telling game's" plot revolves around seven heroes (controlled by the players) who fight in an endless war. The smartphone game Chaos Dragon: Konton Senso (Chaos Dragon: Chaos War) is scheduled to begin service this summer for iOS and Android devices. Scenario-writers for the game include Carlo Zen, Yoichiro Koizumi, Ukyō Kodachi from Team Barrel Roll, Makoto Sanda, Ryogo Narita, Jin Haganeya (Guilty Crown episode scripts), and Shunsaku Yano, among others. Participating illustrators include Cheese Gouda (Gundam: Reconguista in G designs), Shimadoriru, sime, Take, Hiroyuki Takei (Shaman King), Peach-Pit (Shugo Chara!), and minoa from nitroplus. Sakimoto is composing the game's music.
The website Sai-zen-sen serialized the compiled transcripts of the Red Dragon role-playing sessions.
---