News

Crunchyroll to Stream Robot Girls Z Plus Anime

posted on by Egan Loo
6 new monthly
Robot Girls Z
shorts to debut in Japan on Wednesday
---
Media service Crunchyroll announced at its Anime Central panel on Saturday that it will stream the Robot Girls Z Plus anime series. The new series of six monthly Robot Girls Z anime shorts will premiere in Japan on Wednesday.
Voice: 2015: A new project launches!
Text: Teaser
Voice: Its name: Robot Girls Z+!
Voice and Text: Team Z
Voice and Text: Reformed Team G
Voice and Text: Team LOD
Voice and Text: Team Gō
Voice and Text: New characters who first appeared in the online game will also make their grand entrance one after another!
Voice: A plight looms over Nerima again!
Text: A new crisis threatens the Robot Girls!?
Voice: The Revival of the Underground Empire!?
Text: The Underground Empire!?
Voice: A new enemy appears!?
Text: A new enemy!?
Voice: A chaotic battle against the threat that suddenly appeared!
Text: Team Z vs. Reformed Team G!?
Voice & Text: Amid these dire developments, the countdown begins for Robot Girls finally being banished from Nerima!
Voice and Text: Robot Girls Z+ runs every month on the 20th!

The protagonists of Team Z will appear in the new shorts, along with the reformed Team G, Team LOD with new members, Team Gō, and characters who first appeared in the franchise's online game. The new shorts' story will be based on two classic "Toei Manga Matsuri" films, Great Mazinger tai Getter Robo (Great Mazinger Vs. Getter Robo) and Great Mazinger tai Getter Robo G - Kuuchuu Dai-Gekitotsu (Great Mazinger Vs. Getter Robo G - The Great Space Encounter).

The returning and new cast members include:
Kazusa Aranami as Grenda-san 
Inori Minase as Gre-chan 
Mariko Honda as Z-chan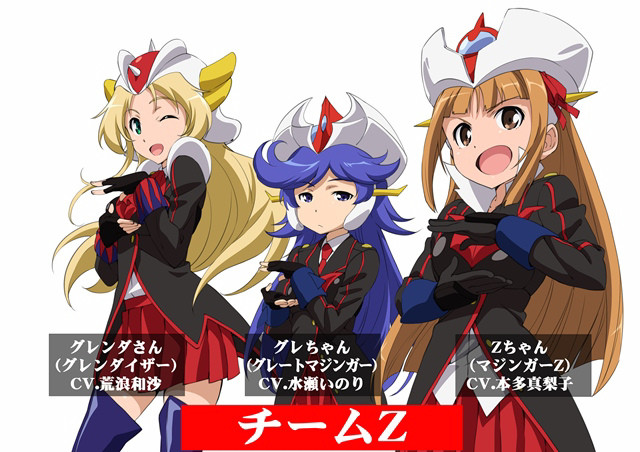 Sayuri Yahagi as Liga-sama
Maaya Uchida as Gecchan Dragon
Misaki Kuno as Pon-chan
Minami Tsuda as Jeeg-san
Natsumi Koike as Paan-san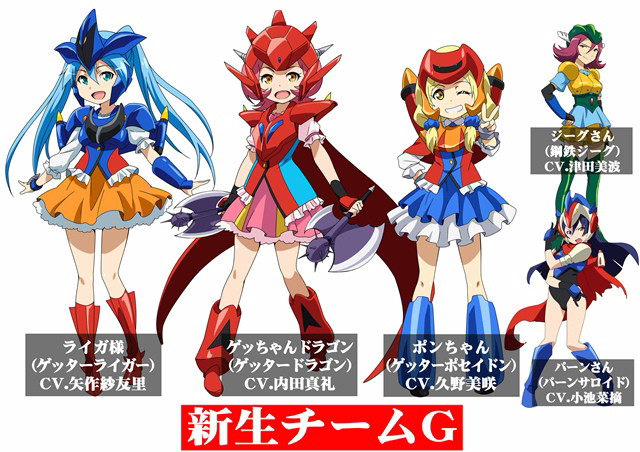 Emi Nitta as Raicchi
Kaori Takaoka as Triple Gai-chan 
Naomi Ōzora as Bal-chan

Emi Hirayama as Shō-chan
Shiori Mikami as Gō-chan
Ari Ozawa as Gai no Jō

Ayana Taketatsu as Bossborokko
The returning staff include:
Producer: Yoshihide Moriyama 
Line Producer: Takahiko Sakagami 
Original creator: Go Nagai 
Series Composition: Kazuho Hyodo 
Script: Kazuho Hyodo
Character Design: Tetsuya Kawakami 
Director: Hiroshi Ikehata 
Co-Production: LandQ studio's 
Animation Production: Toei Animation 
Production: Toei Animation/Toei Video/Toei Channel
The Robot Girls Z anime is the current incarnation of Toei Robot Girls, the project that turns Dynamic Planning and Toei Animation's "legendary super robots into beautiful girls!!"
The stars of Robot Girls Z series are Z-chan, Gre-chan, and Grenda-san. Together they (try to) defend Photon Power Town from "the enemy, the mechanical beast girls of the underground empire." The villains are led by Baron Ashura, the underground emperor "bent on world domination(?)" — or at least, town domination.
Crunchyroll streamed the first series as it ran in Japan last year. The television anime spawned a compilation movie last May.
[Via Nebs]
---