News

Boys Over Flowers 'Romance Drama App' Announced

posted on by Rafael Antonio Pineda
App will allow users to "fall in love" with F4 members
---

This year's 12th issue of Shueisha's Margaret magazine is announcing on Wednesday that a new "romance drama app" based on Yoko Kamio's Boys Over Flowers manga, titled Hana Yori Dango - F4 to First Kiss (Boys Over Flowers - First Kiss With the F4), is slated for an early July release.
The game will feature an original story, and will allow users to "fall in love" with the F4 members, as well as collect visuals and illustrations featuring the F4. The game is currently under development. The announcement did not note which platforms the game will be released on.
The magazine announcement notes the game's official website, though it only contains a message noting that the "romance drama app" is "coming soon." The official website for the app also links to Voltage's main romance apps website.
The original Boys Over Flowers manga followed 16-year old Tsukushi Makino, a bright girl from a middle-class family who gets accepted into the ultra elite Eitoku Academy. She finds herself on the bad side of the school's F4, the four most elite male members at the school. The manga has more than 64 million copies in print.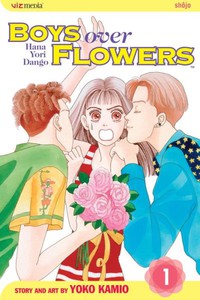 The manga had already been adapted into Japanese anime, a 1995 Japanese live-action film, and a more well-known 2005 Japanese television drama which spawned a sequel and a hit film. Taiwan also remade the manga into a live-action university drama titled Meteor Garden. Crunchyroll streamed a Korean live-action adaptation in 2011. Viz Media released the manga and anime versions in North America. A stage musical adaptation of the manga was announced last month.
Since Boys Over Flowers ended in 2004, Kamio drew two side stories in 2006 and 2007. Kamio debuted the Boys Over Flowers Season 2 manga in Shueisha's Shonen Jump+ digital magazine on February 15. The series is titled Hana Nochi Hare ~HanaDan~ Next Season (Flowers, Then Sunny Skies ~Boys Over Flowers~ Next Season) in Japan. The story is set at Eitoku Academy two years after the legendary F4 group graduated and follows the next generation of characters.
Viz Media is publishing the sequel manga in English as a free simultaneous digital release.
---