×
remind me tomorrow
remind me next week
never remind me
Subscribe to the new ANN Newsletter • Wake up every Sunday to a curated list of ANN's most interesting posts of the week.
read more
News

Ranpo Kitan: Game of Laplace Adds Takehito Koyasu, Yōko Hikasa, More to Cast

posted on by Crystalyn Hodgkins
---
The official website for the Ranpo Kitan: Game of Laplace announced six new cast members on Thursday.
The new cast includes:

Katsuyuki Konishi (Hetalia's America, Gurren Lagann's Kamina) as Kagami, an elite superintendent of the Shinjuku Police Headquarters' 1st Investigation Division. He has a strong sense of justice and a diligent and serious personality. He lives with his younger sister.


Chō (One Piece's Brook, Magi: The Kingdom of Magic's Matal Mogamett) as Nakamura, an experienced veteran detective at the Shinjuku Police Headquarters' 1st Investigation Division. He does things at his own pace and seemingly has no motivation, but he is a good support for Kagami.


Yōko Hikasa (K-ON!'s Mio, Wagnaria!!'s Izumi) as Kuro Tokage (Black Lizard), a thief who is imprisoned in the special isolation cell "Shinjuku Prison." Her intelligence-gathering abilities are first class. She is very strong-willed and her temperament is that of a haughty queen, but she shows a strange reaction to Akechi's blunt interrogation.


Takehito Koyasu (Mobile Suit Gundam Seed's Mu La Flaga, Initial D's Ryousuke Takahashi) as Kageo, a fancier of young women and a rare phantom thief who wears a bag covering his face. No one knows his true face.



Saki Fujita (Attack on Titan's Ymir, Durarara!!×2 Shō's Ruri Hijiribe) as Minami (pictured left) and Kappei Yamaguchi (Death Note's L, One Piece's Usopp) as Shitai-kun (Corpse, pictured below left), a strange duo made up of the head of the autopsy office and a corpse who casually bicker with each other. They provide easy-to-understand explanations for autopsy results.

The website revealed also revealed on Thursday that Sayuri is performing the ending theme song "Mikazuki." Animate.tv has also posted screenshots from the first episode of the series.
The main cast includes:

Takahiro Sakurai (Code Geass' Suzaku, Psycho-Pass' Makishima) as Akechi, a young genius detective who has permission to take off school to help in solving cases. He has an eccentric personality and is dependent on canned coffee. He continues to follow a certain case.


Rie Takahashi (Captain Earth's Ayana Aizawa, Gakkō Gurashi!'s Miki Naoki) as Kobayashi, a boy who doesn't have much interest in others and is detached from his surroundings, though he does have a friend in Hashiba. He meets Akechi and gets involved in his investigation.


Daiki Yamashita (Yowamushi Pedal's Sakamichi Onoda, Shōnen Hollywood's Kira Saeki) as Hashiba, Kobayashi's friend. He's the class representative and the son of a distinguished family. He has a helpful personality, and also plays straightman to Akechi and Kobayashi.

The series will premiere on Fuji TV's noitamina block on July 3 at 12:55 a.m.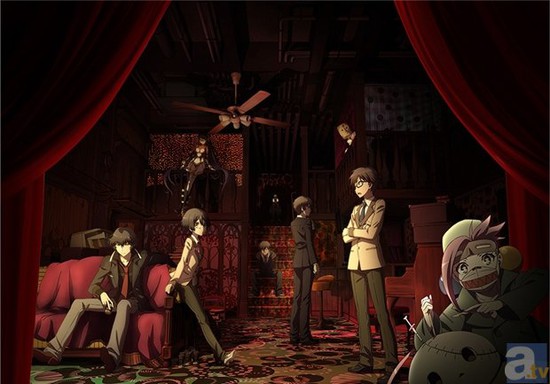 The story takes place at a certain middle school where several murder cases take place. Kobayashi, a boy who goes to this school, meets genius detective Akechi, who comes to the school to investigate. Kobayashi takes an interest in Akechi and, in spite of his friend Hashiba's worries, he volunteers to be Akechi's assistant.
Seiji Kishi (Persona 4, Devil Survivor 2) is directing the anime at the studio Lerche (Re:␣Hamatora, Assassination Classroom). Makoto Uezu (Yumeria, Yuki Yuna Is a Hero) is writing the scripts. The band amazarashi (Tokyo Ghoul √A) is performing the opening theme song "Speed to Masatsu" (Speed and Friction). Masaru Yokoyama (Your Lie in April, Freezing, Queen's Blade: Rebellion) is composing the show's music.
Rampo Edogawa (born Taro Hirai) was a Japanese author whose work includes many mystery novels, such as Black Lizard, The Devil's CREST, and Dark Star. He passed away in 1965 at the age of 70. The series is being produced for the 50th anniversary since Edogawa's passing.
Source: Animate.tv
---