News

Sony Posts 2nd Persona 4: Dancing All Night Unboxing Video (Updated)

posted on by Crystalyn Hodgkins
New video previews
Persona 5
video extras on bundled BD
---
The official Japanese PlayStation Blog began streaming a second unboxing video on Monday for the "Premium Crazy Box" edition of Atlus' Persona 4: Dancing All Night PS Vita game.
This unboxing video focuses on the extra Blu-ray Disc included in the bundle that will feature bonus content for Persona 5, and it shows a sneak peek at the video contents at the end. The contents of the Blu-ray Disc include:
Promotional video #1
Promotional video #2 (latest video)
2015 "Persona Super Live" announcement video
2014 "SCE Conference" announcement video
2013 "News Flash! Persona Channel" announcement video

The full "Premium Crazy Box" package contains everything in the "Crazy Value Pack" edition of the game: a two-disc soundtrack with all the music in the game, two costume DLC (the Gekkōkan High School Uniform set and the Persona 4 Golden Summer Break set), an additional downloadable track titled "NeverMore" (Persona 4 ending theme), and an original illustration by series artist Shigenori Soejima.
The edition will also include a PS Vita unit with an exclusive Persona 4: Dancing All Night-themed sleeve. The PS Vita itself will also come with with a pre-installed menu theme, which includes the remixed track "Signs of Love (Funky HOME Mix)," arranged by Shin Megami Tensei series composer Ryōta Kozuka.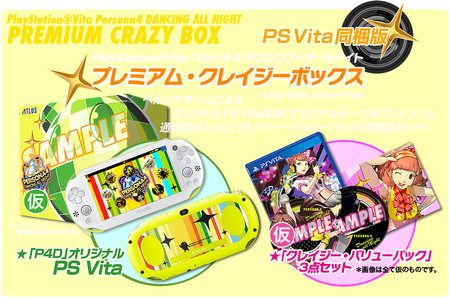 The "Premium Crazy Box" will cost 28,980 yen (around US$235). The "Crazy Value Pack" will cost 9,980 yen (around US$81). The regular edition will cost 6,980 yen (around US$56).
The game will debut in Japan on June 25. Atlus USA will release the game in North America this fall with a launch edition and a special edition.
The game was originally slated for last fall but was delayed until this year. The website also previously listed Dingo as a developing partner, but now it only lists Atlus and Sega.
The story of the game begins half a year after the Inaba City serial murder case was solved and Rise Kujikawa returns to the world of entertainment. As rumors begin spreading that "at midnight, if you see a strange video playing on a certain site, you are transported to the 'other side' and will never wake up again," members of the idol group "Kanamin Kitchen," which includes Rise's underclassman Kanami Mashita (voiced by Minako Kotobuki), are disappearing.
In the game, the "Hero," Rise, Kanami, Yosuke, Chie, Kanji, Yukiko, Naoto, Nanako, and other Persona 4 characters engage in a "dance battle" with the Shadows in the mysterious world of "Mayonaka Stage."
Update: Atlus also began streaming a video on Monday detailing the contents of the "Crazy Value Pack."
Source: Famitsu
---