News

Mamoru Hosoda Directs Boy & The Beast's Suntory Drink Crossover Ads

posted on by Egan Loo
Summer Wars
director's studio animates campaign between his new film, Green Da-Ka-Ra mascots
---
Director Mamoru Hosoda and his Studio Chizu animated a few crossover commercials between Hosoda's latest film The Boy and The Beast and Suntory's drink brand Green Da-Ka-Ra. In the first ad titled "Sashiire" (Insertion or Present), a song tells the story: the brand's Green Dakara-chan and Mugi-chan enter the world of The Boy and The Beast, and they give Green Da-Ka-Ra mineral water and barley tea to the movie's main character Kyūta and his beast teacher Kumatetsu:
The first ad debuted online on Wednesday, and will air nationwide on Saturday. The second 15-second ad, "Market," will debut online and on television next Wednesday. Then, after the film itself opens on July 11, the campaign's website will present an exclusive 80-second version of the video.
The child actress Suzuku-chan has been playing the mascot character Green Dakara-chan in a series of live-action commercials for Suntory's Green Da-Ka-Ra brand. Nagisa-chan, Suzuku-chan's little sister in real life, recently joined the campaign as Mugi-chan to promote Green Da-Ka-Ra Yasashii Mugicha ("Green Da-Ka-Ra Sweethearted Barley Tea").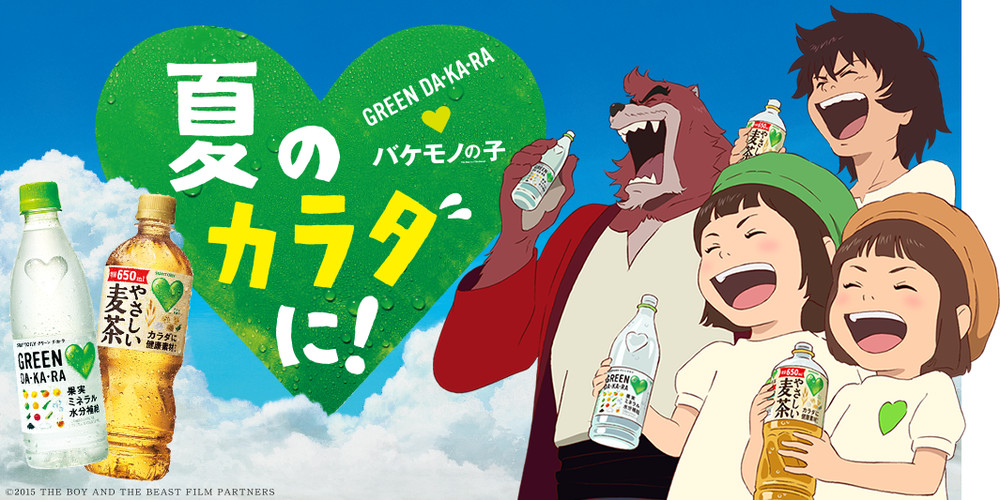 The story of the film is set in the human realm (Tokyo's Shibuya ward) and the bakemono realm ("Jūtengai"). In these two worlds that must not intersect, there lives a lonely boy and a lonely bakemono. One day, the boy gets lost in the bakemono world, becomes the disciple of the bakemono Kumatetsu, and is renamed Kyūta.
Hosoda (Summer Wars, Wolf Children) created and scripted the movie. It will be Hosoda's first film since 2012, when his relatively new animation movie company Studio Chizu released Wolf Children as its first project. Masakatsu Takagi (Wolf Children) is scoring the soundtrack. The film stars:

Kōji Yakusho as Kumatetsu, a bear-like being who acts as a teacher to the human Kyūta


Aoi Miyazaki as child Kyūta


Shōta Sometani as adolescent Kyūta


Suzu Hirose in her debut voice-acting role as Kaede, a high school student Kyūta meets

The film will open on July 11 in Japan. Renji Asai (Sentō Jōsai Masurawo) launched the manga in Kadokawa Shoten's Monthly Shōnen Ace on April 25.
Funimation licensed the American rights to the film, and plans to release the film in select theaters later this year and nationwide in early 2016. Theatrical screenings have also been set for France, and the major French movie studio Gaumont will handle international sales outside Asia. Funimation is working with Gaumont International to release the film.
Source: animeanime.jp
---