News

1st 3-Part Precure Film's Trailer Previews Halloween Theme

posted on by Jennifer Sherman
Magical girl film with 1 cel, 2 CG anime opening on October 31
---
The Mainichi Shimbun paper's MaiDiGi service began streaming a trailer for the Eiga Go! Princess Precure Go! Go!! Gōka 3-bon Date!!! (Go! Princess Precure: Go! Go!! Grand 3-Part Movie!!!) film on Saturday. The video previews each of the film's three parts and their Halloween theme.
As the title indicates, the film will be the magical girl franchise's first to have three parts. Since the film will open on Halloween, each of the three parts will have a Halloween theme. Producer Takashi Washio described the three parts as "an emotional epic adventure of high stakes, a full-CG nonstop action story, and a full-CG SD character piece."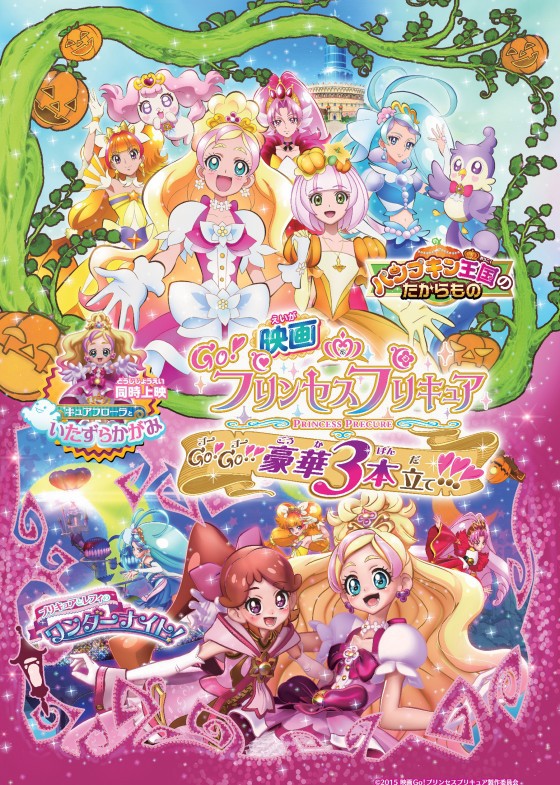 "Pumpkin Ōkoku no Takaramono" (The Pumpkin Kingdom's Treasure, pictured at top in poster image) will be a cel-style anime in which the Precure girls set off to rescue a kidnapped princess. The story begins when Haruka and her friends are wrapped in a mysterious light and travel to the Pumpkin Kingdom.
"Precure to Refi no Wonder Night!" (Precure and Refi's Wonder Night!, bottom in image) will be a full-CG anime. In this story, the Pump Kingdom lost its daytime, and the Precure girls fight alongside the kingdom's Princess Refi to take back daytime. Hinata Uegaki (young Nala in Shiki Theatre Company's Osaka stage production of The Lion King and the winner of Kanjani no Shiwake Eight's "Musical Kids No. 1" competition) will guest-star as Princess Refi. The 11-year-old girl with remarkable singing ability will sing within the story in her first voice-acting role.
Finally, the "Cure Flora to Itazura Kagami" (Cure Flora and the Vain Mirror, center left) CG anime will be the franchise's first short story with no dialogue. It will feature super-deformed characters. Cure Flora (as a CG character) will interact with a playful spirit that dwells within a mirror.
A limited number of advance tickets, with a bonus "Princess Elegant Pouch" in pink or blue, will go on sale on July 18. In addition, the advance tickets will have a 2D code for a demo version of the Nintendo 3DS game Go! Princess Precure: Sugar Ōkoku to 6-nin no Princess!! (Go! Princess Precure: The Sugar Kingdom and the Six Princesses!) The full game goes on sale on July 30.

Go! Princess Precure, the 12th Precure television anime series, premiered in February. The most recent Precure film, Eiga Precure All Stars: Haru no Carnival (Precure All Stars the Movie: Spring Carnival), opened on March 14.
---