News

Japan Animator Expo's Season 3 Lineup Posted

posted on by Egan Loo
---
The official website for Japan Anima(tor)'s Exhibition (Japan Animator Expo), the weekly anime shorts from Hideaki Anno's Studio Khara and the media company Dwango, announced the lineup for the third season on Saturday.
| Title | Director/Staff |
| --- | --- |
| Endless night (TBC) | Sayo Yamamoto |
| Cassette Girl | Hiroyasu Kobayashi |
| Kazuyoshi Katayama Project "Untitled" (TBD) | Kazuyoshi Katayama |
| COMEDY SKIT 1989 | Kazuto Nakazawa |
| THE ULTRAMAN | Akitoshi Yokoyama |
| NEON GENESIS IMPACTS. | Yuhei Sakuragi |
| (To Be Determined) | Hiroyuki Okiura |
| HAMMERHEAD | Otaro Maijo × Mahiro Maeda |
| BUREAU OF PROTO SOCIETY | Yasuhiro Yoshiura |
| BUBU & BUBULINA | Takashi Nakamura |
| Hibiki Yoshizaki×DAOKO Project "Untitled" (TBD) | Hibiki Yoshizaki |
The titles above are listed in phonetic Japanese order, and are not necessarily in the order of their scheduled release.
The some of the shorts will play a limited two-week engagement in 10 theaters throughout Japan, starting next Saturday.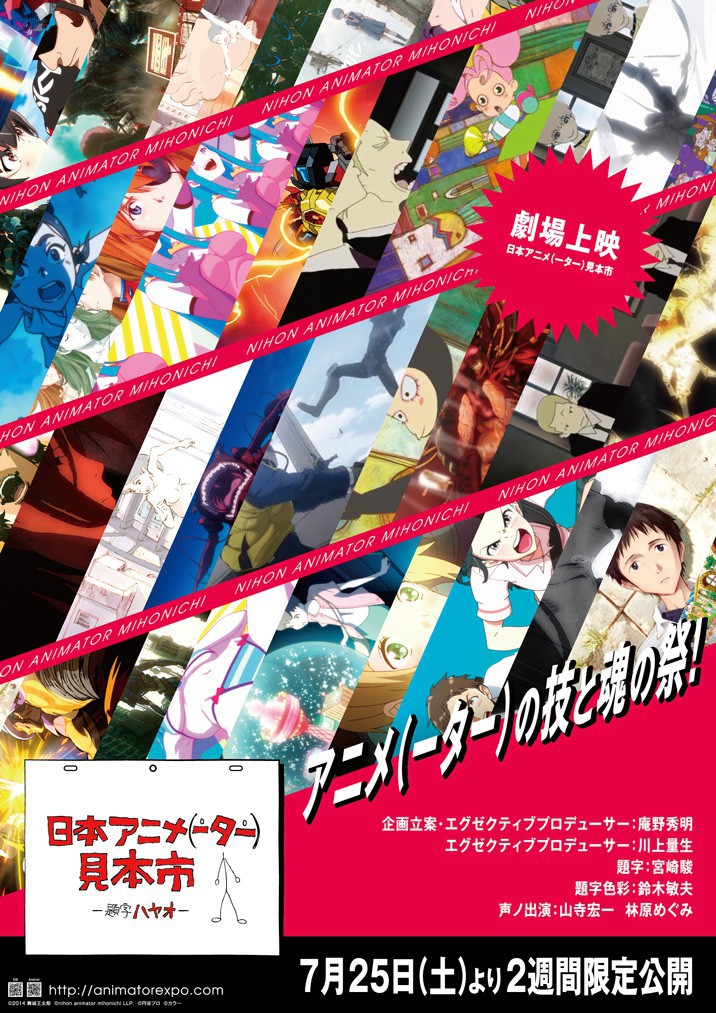 The theatrical screenings will show all 12 episodes of the first season, plus three episodes from the upcoming third season — "Hammerhead," "Conte (Hitman) 1989" ("COMEDY SKIT 1989" or "Conte Koroshita 1989"), and "Bubu & Bubulina." The website is streaming a theatrical trailer:
The third season will begin in the middle of July, and it will once again release a new episode every Friday. Two titles were listed for the second season but never released: "2 of killers of 2" by Kazuto Nakazawa and "Hammerhead" by Ōtarō Maijō and Mahiro Maeda. Daisuke Onizuka and Mahiro Maeda's "Rapid Rouge," a remix of the "ME!ME!ME!" music video, and "(Making of) evangelion:Another Impact" were released instead.
Hideaki Anno himself is serving as executive producer of the entire project initiative with Dwango President Nobuo Kawakami, and he also designed the image character mascot "(Tor)-kun." Ghibli co-founder Hayao Miyazaki created the title logo, and fellow Ghibli co-founder Toshio Suzuki colored it. The shorts mostly feature the voice talent of Ranma ½ and Cowboy Bebop co-stars Kouichi Yamadera and Megumi Hayashibara.
---