×
remind me tomorrow
remind me next week
never remind me
Subscribe to the ANN Newsletter • Wake up every Sunday to a curated list of ANN's most interesting posts of the week.
read more
News

SMASH! 2015 On This Weekend in Sydney

posted on by Jon Hayward
---

©Goma Studio
The Sydney Manga and Anime Show 2015 (SMASH 2015) will be held at Rosehill Gardens in Rosehill, Western Sydney. SMASH will be hosting special guests Noriaki Sugiyama (Sasuke Uchiha from Naruto and Naruto Shippūden), Danny Choo (Culture Japan), Hiroaki Yura (Producer on Project Phoenix). SMASH will also be hosting the Australian Gunpla Builders World Cup 2015, the World Cosplay Summit Australian Preliminary and the Love Live! School idol project Celebration! incorporating the Love Live! Café, Costume Exhibition and Merchandise.
Also SMASH will be holding Australia's first Anime music concert, I Love Anisong X SMASH!, featuring GARNiDELiA (Kill la Kill, Gunslinger Stratos), DJ Hello Kitty, anime music producer kz(livetune) and J-pop artist Nagi Yanagi (Waiting in the Summer, Jormungand, My Teen Romantic Comedy SNAFU).
Details
Where: Rosehill Gardens, James Ruse Dr, Rosehill NSW 2142.
When: Saturday the 8th and Sunday the 9th of August 2014.
Cost: Pre-purchased tickets are no-longer available. On the door tickets are $55 for the weekend, $40 for Saturday and $35 for Sunday.
Website: http://www.smash.org.au.
You can also check out the SMASH! 2015 press-release here.
Guests

© AXL ONE
Noriaki Sugiyama
A prolific Japanese voice actor, Noriaki Sugiyama's most notable voice would be Sasuke Uchiha in Naruto and Naruto Shippūden but you will recognise him from Bleach as Ishida Uryuu, Shirou Emiya in the Fate/stay night series including Fate/stay night: Unlimited Blade Works and Fate/kaleid liner Prisma Illya, Rivalz Cardemonde in Code Geass: Lelouch of the Rebellion and United Kingdom in Hetalia - Axis Powers.
You will be able to catch Noriaki Sugiyama on Saturday at his Q & A on the Main Stage at 11:00am, signings at 1:30pm in The Lounge and during his Mini-panel at 3:00pm in the Hanabee Panels Room. On Sunday he will be doing another Q & A on the Main Stage at 11:00am and signing at 12:30pm in The Lounge.

© Danny Choo
Danny Choo
International entrepreneur Danny Choo has come a long way since starting to blog about japanese life and culture in 2004. Danny's popularity among anime and manga fans internationally led to the creation of "Culture Japan" a online show showcasing Japanese pop culture and the creation of virtual mascot Mirai Suenaga. Mirai went onto become the ambassador for Japan Tourism and has collaborated with several notable anime and game companies including Square Enix, Bandai Namco, Bushiroad and Nitroplus+. Not content with creating a popular TV show and mascot, Danny has since broken out and started his own company creating large-scale fashion dolls known as Smart Dolls with the first model being (of course) Mirai Suenaga.
Danny will be hosting two panels, Smart Doll Production - How You Can Make Your Own Bjd will be on Saturday at 2:30pm on the Art Stage and How To Startup Your Own Business In The Japanese Pop Culture Field will be at 1:00pm on Sunday in the Panels Room. He will also be bringing over some Smart Dolls, Culture Japan merchandise and more and you can view the full list of what he's doing at SMASH on his website.

© Hiroaki Yura
Hiroaki Yura
Violin Virtuoso, Founder of the Eminence Symphony Orchestra and conductor for several notable anime and video game soundtracks, Hiroaki Yura is a very talented artist. In 2003 Hiroaki founded Eminence Symphony Orchestra, the world's first animation and gaming focused orchestra in Sydney and they went onto to a great number of concerts including music from Studio Ghibli and a special series called A Night in Fantasia featuring the composition of Nobuo Uematsu. Yura went onto direct soundtrack recordings for Diablo III, Soulcalibur IV & V, The Disappearance of Haruhi Suzumiya and Steins; Gate. He has since formed Creative Intelligence Arts Inc. in Tokyo and in 2013 CIA kickstarted "Project Phoenix", a Japanese RPG which features the talents of Nobuo Uematsu and other international talents that topped over 1 million USD in pledges.
Hiroaki Yura will be running a Music Panel on Sunday at 2:00pm on the Art Stage and a Project Phoenix Panel at 4:00pm in the Hanabee Panel Room.
Events

I ❤ ANISONG X SMASH!
Australia's first anime music concert, I ❤ ANISONG X SMASH! features J-pop duo GARNiDELiA (Kill la Kill, Irregular at Magic High School, Gundam Reconguista in G, Gunslinger Stratos), DJ Hello Kitty, Vocaloid and anime music producer kz(livetune), and J-pop artist yanaginagi (Waiting in the Summer, Jormungand, My Teen Romantic Comedy SNAFU). I ❤ ANISONG X SMASH! will be the Australian debut concert for GARNiDELiA, DJ Hello Kitty and yanaginagi.
The concert will be taking place in the Main Hall and doors open from 6pm for a 6:45pm start. While tickets cannot be purchased online at this time, some tickets will be available during the day at SMASH! from 9:00am for SMASH! attendees and from 16:00pm for general public, both are purchasable from the vendor hall. You can find more information on the concert at the Anisong website.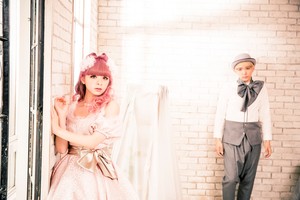 © GARNiDELiA
GARNiDELiA
Japanese music duo GARNiDELiA consists of vocalist Mai 'Maria' Mizuhashi and producer Yoshinori 'Toku' Abe who's first collaboration 'Color' was used as the opening theme song for Freezing. After signing with Defstar Records in 2014 GARNiDELiA's official debut 'Ambiguous' was then selected as the second OP for Kill La Kill. GARNiDELiA continued to release songs for other anime series including 'Grilletto' for Irregular at Magic High School, 'Blazing' for Gundam Reconguista in G and 'Mirai' for Gunslinger Stratos which were then collected on their debut album, Linkage Ring.

© 1976, 2013 SANRIO CO.,LTD. TOKYO, JAPAN (L)
DJ Hello Kitty
Since her official debut in 2010, DJ Hello Kitty has been spinning tracks at various clubs, gigs and television appearances across Asia. With a mix CD titles "DJ Hello Kitty in the Mix" DJ Hello Kitty has since produced music for SMAP and Ayumi Hamasaki.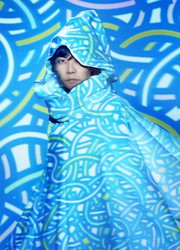 © INCS
kz(livetune)
kz(livetune) started creating songs with Kajuki P in 2007 using the Hatsune Miku singing synth software "Vocaloid 2" creating vocals for songs on Nico Nico Douga. Since Kajuki P left in 2009, kz has produced many hits including 'Re:Packaged', 'Redial' and 'Strobe Nights' and in 2012 his single 'Tell Your World' became a hit and was used for Japanese advertising for Google Chrome. kz(livetune)'s success and style has led him to collaboration with KOTOKO, ClariS, Maon Kurosaki, Ryo (Supercell), TMRevolution and more. kz(livetune) has also been responsible for the Insert and Theme of Devil Survivor 2 The Animation, Theme composition on Oreimo and theme arrangement, composition and lyrics on Re:Hamatora.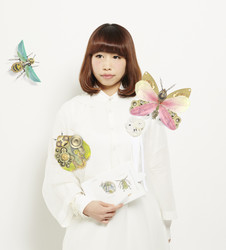 © INCS
Beginning her career as a cover artist in 2005, it wasn't until 2007 when yanaginagi started submitting her work onto Nico Nico Douga where she caught the attention of Supercell's songwriter, Ryo, who then approached her to sing vocals for Supercell's debut single 'Kimi no Shiranai Monogatari' in 2009. yanaginagi continued as Supercell's vocalist until 2011 when she provided the vocals for 'Sayonara Memories' and 'Utakata Hanabi / Hoshi ga Matataku Konna Yoru ni' and Supercell's second album 'Today is a Beautiful Day'.
Since leaving Supercell, yanaginagi struck out on her own with the single 'Vidro Moyō' which was used as the ending theme for Waiting in the Summer. yanaginagi then continued to release songs for other anime series including 'Ambivalentidea' (Jormungand), 'Laterality' (Jormungand: Perfect Order), 'Zoetrope' (Amnesia), 'Yukitoki' (My Teen Romantic Comedy SNAFU) and 'Tokohana' (Black Bullet).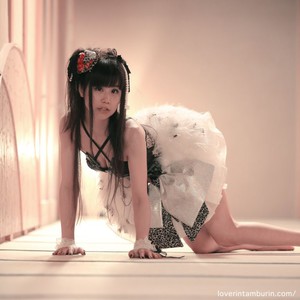 ©Goma Studio
Loverin Tamburin
Formed as "a.a" in Hiroshima in 1997 before moving to Tokyo in 2001 and renaming as LOVERIN TAMBURIN The band consists of main vocalist and songwriter Aya, pianist AKIHIRO and support musicians Fujio Ryo (guitarist), Fire (guitarist) and Kohta Igarashi (drummer). Loverin Tamburin's major debut was in 2006 with 'Aishitageru', the opening theme of Disgea and a year later with 'mo.o' the ending theme of Nanatsuiro Drops. The band has since released a number of covers from Ghibli films, Dragon Ball Z and The Melancholy of Haruhi Suzumiya.

Australian Gunpla Builders World Cup 2015
Bandai's Gunpla Builders World Cup is a international Gundam modelling competition created to give Gunpla enthusiasts around the world a way of sharing their love and skills for Gunpla on a global scale. Since 2004 GBWC has held heats in Japan, China, Singapore, Philippines, Indonesia, Italy, USA, Thailand, Hong Kong, South Korea, and Malaysia with the finalists converging on Japan.
The 2015 GBWC Australia qualifiers will help decide which Australian Gunpla Modellers should represent Australia at the GBWC Finals in Japan, the representatives will be chosen from Category B in both Open Class and Junior Open Class.
In addition, HobbyCo will be running both beginners and advanced Gunpla classes for anyone to attend. Hobbyco will be offering convention exclusive Gunpla including the 1/144 HGBF Neon Bearguy III, Build Burning Gundam PP Clear Version and the same day release of the 1/144 RG MBP.PO2 Gundam Astray Red Frame. All kits will be avabile from the Zombster Gunpla Proshop during SMASH.
And finally, legendary Gunpla modeller Katsumi Kawaguchi will be in attendance to see what Australia has to offer for the Gunpla Builders World Cup, run a meet and greet on the Saturday and offer some demonstration on the Sunday. You will be able to find him in the Hobbyco Gundam Workshop Zone.
Itasha Car Exhibition
SMASH will be running the first ever Australian Itasha Car Exhibition, basically cars that are decorated with paint schemes or stickers of anime, manga or video game characters. The owners of the cars will be around to answer questions and show off their work.
Love Live! School idol project Celebration!
In conjunction with Madman Entertainment, SMASH! 2015 will be hosting a massive amount of content and events for Love Live! School idol project fans. This includes a Love Live! Café, Love Live! Costume Exhibition and Love Live! Merchandise store alongside Love Live! School Idol Project screenings. You can find out more information on the dedicated SMASH! Love Live! website and considering the popularity of Love Live! you might want to investigate the Café details to make sure you know how early to arrive to get a reservation.
World Cosplay Summit Australian Preliminary
SMASH! 2015 will be hosting the Australian preliminaries for the 2016 World Cosplay Summit, the cosplay competition that brings together contestants from around the world together with their love of cosplay. The winning team will recieve a trip to Japan to compete at the World Cosplay Summit finals in Nagoya.
In addition SMASH! will be hosting both Reika and KANAME☆ for panels and signing sessions over the weekend.
You can catch the WCS prelims at 3:00pm on Sunday on the Main Stage. Reika will be signing at 10:00am in the Lounge and running at panel at 12:30 in the Hanabee Panel Room on Saturday. KANAME☆ will be signing at 12:00pm in the Lounge on Saturday. On Sunday Reika will be signing at 11:00am while KANAME☆ runs a Panel in the Hanabee Panel Room and then they both will be hosting a panel at 12:00pm on the Main Stage followed by KANAME☆ signing at 1:30pm.
Highlights
SMASH! simply has too much to highlight over the weekend, we've done our best to run through the major events but you can view all the events here or better yet peruse the schedule here.
And we will be following Hanabee and Madman and reporting on their events, you will see the news here on Anime News Network and on our facebook and twitter (Remember all times are AEST).
Saturday 11:00am - Madman Panel - Hanabee Panels Room.
Sunday 12:30pm - Hanabee Secret Release! - AnimeLab Theatre.
Final Details
You can find the schedule for SMASH
here
and further information on SMASH including
location and floor-map
&
transport
and
ticket prices
.
And finally you can visit SMASH's website or facebook page or twitter for further information.
---