News

The Testament of Sister New Devil Burst's 2nd Trailer Unveils Opening Theme Artist

posted on by Karen Ressler
Metamorphose,
Yoko Ishida
perform theme song for 2nd season
---
The official website for The Testament of Sister New Devil anime posted a second promotional video for the second season, The Testament of Sister New Devil Burst, on Friday. The video features the opening song "Over the Testament" by Metamorphose featuring Yoko Ishida.
Joining the cast in the second season are:
Tesshô Genda as Ramsus
Hibiku Yamamura as Lukia
Kikuko Inoue as Liala
The cast also includes:
Yūichi Nakamura as Basara Tōjō 
Ayaka Asai as Mio Naruse 
Kaori Fukuhara as Maria Naruse 
Sarah Emi Bridcutt as Yuki Nonaka 
Keiji Fujiwara as Jin Tōjō 
Yuu Asakawa as Chitose Hasegawa 
Tomokazu Sugita as Yahiro Takigawa 
Iori Nomizu as Kurumi Nonaka 
Seiko Yoshida as Zest 
Kenjiro Tsuda as Mamoru Sakazaki 
Kazuyuki Okitsu as Leohart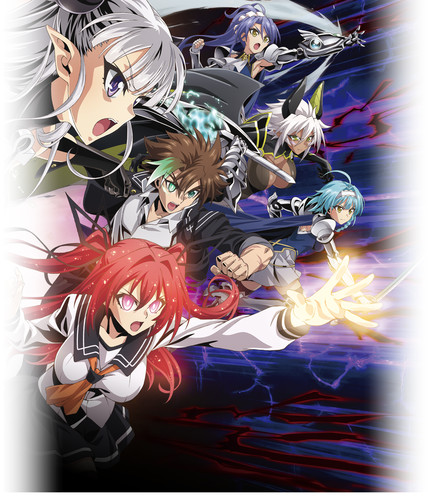 Sumio Uetake (Angel Heart, Burn-Up Scramble, Destiny of the Shrine Maiden, R-15, Shattered Angels) is now in charge of series scripts and writing them, in collaboration with the previous head writer Takao Yoshioka. The returning staff includes:
Original Creator: Tetsuto Uesu (published by Kadokawa Sneaker Bunko)
Original Illustrations: Nekosuke Okuma 
Director: Hisashi Saito 
Character Design: Yoshihiro Watanabe 
Animation Production: Production IMS 
The "rather risque battle action" story centers around Basara Tōjō, a first-year high school student who is flustered by a sudden question by his eccentric father, "Hey, didn't you used to say you wanted a little sister?" In addition, his father announces that he is getting remarried. His father brings over two beautiful step-sisters, but then embarks on an overseas trip. However, the two sisters Mio and Maria Naruse are actually a novice devil and succubus.
Basara almost ends up forming a dangerous servant and master contract with them, but due to an error, the contract becomes reversed, and Basara becomes the master instead. To add to things, erotic situations continuously start to happen in Basara's life. However, it turns out Mio is having her life targeted by other monsters and heroes. And so, the "desire/action" tale of the strongest contracter begins.
Crunchyroll streamed the first season in various territories as it aired. Miyako is serializing the manga adaptation of the original light novel series by Tetsuto Uesu (Aesthetica of a Rogue Hero) in Kadokawa's Monthly Shōnen Ace magazine. Seven Seas Entertainment will publish the first manga volume in North America in February 2016.
The seventh volume of the manga in Japan will bundle an original anime Blu-ray Disc on January 26, 2016.
---