News

Wagamama High Spec Adult Visual Novel Gets TV Anime

posted on by Rafael Antonio Pineda
Visual novel's story centers on high school manga creator who draws risqué manga
---
Visual novel developer Madosoft revealed at its Comic Market 88 booth on Friday that its upcoming Wagamama High Spec (Selfish High Spec) adult visual novel will receive a television anime adaptation. Madsoft did not reveal any further details about the anime.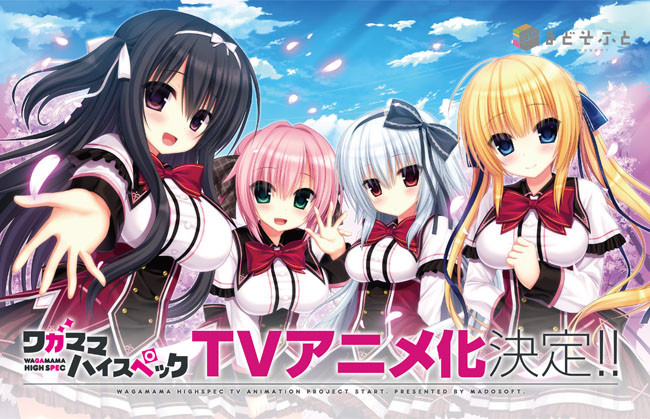 The visual novel's story revolves around Kōki Narumi, a high school student who also draws a manga serialized in a weekly magazine. Because the manga he draws is a risqué romantic comedy, he keeps this fact a secret from everyone around him, with his younger sister Toa and his best friend Mihiro being the only ones who know.
But one day, as the student council president Kaoruko Rokuonji is searching for male members for the student council, she finds out that Kōki is the manga's author. Kōki joins the student council in exchange for Kaoruko not revealing his secret. However, the vice president, Ashe R. Sakuragi, strongly opposes him joining, and in the midst of all this, various requests and troubles of students begin to pile up.
The original visual novel is Madosoft's third game, after Namaiki Delation in 2013, and Yakimochi Streaming in 2014. Madosoft has not yet announced a release date for the Wagamama High Spec visual novel.
[Via Tech Gian Smart, Otakomu]
---