News

So Cute it Hurts!! Manga Continues Past August

posted on by Rafael Antonio Pineda
Sho-Comi previously revealed that August 20 issue would include manga's 'climax' chapter
---

This year's 18th issue of Shogakukan's Sho-Comi magazine will reveal on Thursday that Gō Ikeyamada will continue her So Cute it Hurts!! (Kobayashi ga Kawai Sugite Tsurai!!) manga beyond the issue. Sho-Comi's 15th issue previously noted in July that the 18th issue would include the manga's "climax" (クライマックス) chapter. The word "climax" is often used by magazines to describe a manga's final chapter.
Ikeyamada previously revealed in the 10th compiled book volume of the manga that it was entering its final arc with the 11th volume.
The manga's story revolves around twin brother and sister Mitsuru and Megumu Kobayashi who switch places and attend the other sibling's school. Things get strange when Megumu realizes that the school that her popular brother Mitsuru had been going to was in fact a school for delinquents. When attacked by a group of bullies, she meets a mysterious boy with an eye patch.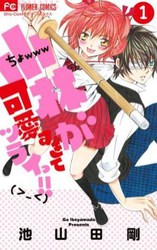 Ikeyamada began the manga in Sho-Comi magazine in August 2012. Shogakukan released the 12th compiled volume of the manga on July 24.
Viz Media revealed last October that it had licensed the series for North America under the title So Cute It Hurts!!. The company released the second volume on August 4.
The manga received an original anime DVD bundled with the third volume of the manga in July 2013, and a second anime DVD shipped with the sixth volume of the manga in March 2014.
Happinet Games is also adapting the manga into a Nintendo 3DS game, with the story supervised by Ikeyamada, which will ship in Japan on August 27. The game stars Tatsuhisa Suzuki as Erio Falcone, a game original character designed by Ikeyamada. Happinet Games previously streamed the game's opening video in May.
---