News

Boruto -Naruto the Movie- to Also Debut in Canada on October 10

posted on by Crystalyn Hodgkins
Film to screen in 9 Canadian cities including Montreal, Toronto, Vancouver, Ottawa
---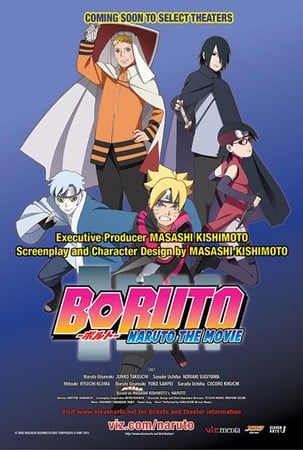 Viz Media announced on Friday that it and Eleven Arts will debut the Boruto -Naruto the Movie- film in Canada on October 10. The premiere will coincide with the U.S. premiere. The film will screen in nine major Canadian cities, including Montreal, Ottawa, Toronto, Vancouver, Calgary, and Edmonton. The screenings will feature Japanese dialogue with English subtitles.
Viz describes the story of the film:
In Boruto: Naruto The Movie, famed ninja, Naruto Uzumaki protects the Hidden Leaf Village as the Seventh Hokage, while Boruto, his troublesome son, resents his father's responsibilities that take his time away from him. Seeing this, Sasuke takes Boruto under his wing, while Sasuke's only daughter, Sarada, dreams of being Hokage one day. 

With Naruto as the Seventh Hokage, the Hidden Leaf Village plans to host the Chunin Exams to train new shinobi from the village and from their allied villages. Among the entrants are Sasuke's daughter, Sarada, Mitsuki, an exceptionally talented yet mysterious shinobi… and Boruto, Naruto's talented but impetuous son. Meanwhile, Sasuke who's been on a mission in another dimension appears before Naruto to warn of a strange impending danger. Shrouded with an evil aura, Momoshiki and Kinshiki appear and attempt to assassinate Naruto. Petrified, Boruto is shielded by Naruto, only to disappear in front of Boruto's own eyes!
The film opened in Japan on August 7.
Original Naruto manga creator Masashi Kishimoto is credited with the original story, script, and character designs, as well as the chief production supervisor, for the film. Hiroyuki Yamashita (Naruto Shippūden episode director, Road to Ninja: Naruto the Movie animation director) directed the film, and Ukyō Kodachi (Chaos Dragon, Neppu Kairiku Bushi Road) collaborated with Kishimoto on the script.
The film stars Yuko Sanpei as Boruto and Kokoro Kikuchi as Sarada. Junko Takeuchi reprised her role as Naruto Uzumaki, and Noriaki Sugiyama reprised his role as Sasuke Uchiha.
---