News

Boruto: Naruto the Movie US Theater List Updated

posted on by Karen Ressler
Screenings added in Alabama, Florida, Kansas, Massachusetts, Maryland, North Carolina
---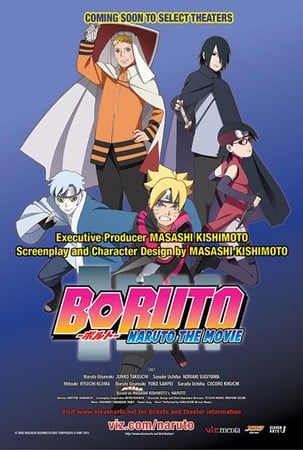 Film distributor Eleven Arts updated its list of US theaters that will screen the Boruto -Naruto the Movie- film. The full list is:
State
City
Theater
AL
Burmingham
The Edge 12
AZ
Tempe
Harkins Theatres - Valley Art
CA
Anaheim
Starlight Cinema City
CA
Bakersfield
Valley Plaza 16
CA
Starlight Cinema City
Starlight Dos Lagos 15
CA
Costa Mesa
Starlight Triangle Square Cinemas
CA
Los Angeles
Downtown Independent
CA
Murrieta
Cal Oaks17
CA
Rohnert Park
Rohnert Park 16
CA
Sacramento
Tower Theater
CA
San Diego
Camel Mountain 12
CA
San Diego
Gaslamp 15 
CA
San Francisco
New People
CA
Whittier
Starlight Whittier Village Cinemas
CO
Denver
Sie FilmCenter
CO
Littleton
Alamo Drafthouse Cinema Littleton
DC
Washington
Angelika Pop-Up
FL
Ft. Lauderdale
Cinema Paradiso
FL
Hollywood
Cinema Paradiso
HI
Honolulu
Ward Stadium 16
IA
Cedar Rapids
Cedar Rapids Galaxy 16 Cine
IL
Bloomington
Bloomington Galaxy 14 Cinema
IL
Chicago
Music Box
IL
O'Fallon
O'Fallon 15 Cine
KS
Wichita
Palace West Theatre
MA
Cambridge
Brattle Theatre
MD
Baltimore
The Charles Theatre
MI
Bloomfield
The Maple Theater
MI
Kalamazoo
Alamo Drafthouse Cinema Kalamazoo
MN
Rochester
Rochester Galaxy 14
MO
Cape Girardeau
Cape West 14 Cine
MO
Chesterfield
Chesterfield Galaxy 14 Cine
MO
Kansas City
Alamo Drafthouse Main Street
MO
Springfield
Campbell 16 Cine
MO
St Peters
Mid Rivers 14 Cine
MO
Sappington
Ronnies 20 Cine
NC
Raleigh
Raleighwood Cinema Grill
NJ
Manville
Manville 12 Plex
NM
Albuquerque
The Guild Cinema
NY
Amherst
Dipson Amherst Theatre
NY
Amherst
The Screening Room Cinema cafe
NY
Douglaston
Movie World Cinemas
NY
Lancaster
Dipson Flix Stadium 10
NY
New York
Village East Cinema
NY
Williamsville
Dipson Eastern Hills Cinema
NY
Yonkers
Alamo Drafthouse Cinema Yonkers
OH
Cleveland
Cleveland Cinemas – Cedar Lee
OH
Columbus
Gateway Film Center
OK
Broken Arrow
Warren Theatre
OR
Portland
Hollywood Theater
PA
Pittsburgh
Hollywood Theater
TN
Memphis
Malco Theaters
TX
Austin
Alamo Drafthouse Cinema Ritz
TX
Dallas
Angelika Film Center & Café - Dallas
TX
Dallas
Angelica Plano
TX
Houston
Alamo Drafthouse Mason Park
TX
Houston
Alamo Drafthouse Vintage Park
TX
Laredo
Alamo Drafthouse Cinema Laredo
TX
Lubbock
Alamo Drafthouse Cinema Lubbock
TX
New Braunfels
Alamo Drafthouse Cinema Marketplace
TX
San Antonio
Alamo Drafthouse Cinema Westlakes
UT
Salt Lake City
Megaplex – Gateway Theatres
UT
Sandy
Megaplex Theatres - Jordan Commons
VA
Ashburn
Alamo Drafthouse Cinema One Loudoun
VA
Fairfax
Angelika Film Center & Café - Mosaic
VA
Winchester
Alamo Drafthouse Cinema Winchester
WA
Seattle
Grand Illusion
The screenings will begin in most cities on October 10 with English subtitles.
Viz describes the story of the film:
In Boruto: Naruto The Movie, famed ninja, Naruto Uzumaki protects the Hidden Leaf Village as the Seventh Hokage, while Boruto, his troublesome son, resents his father's responsibilities that take his time away from him. Seeing this, Sasuke takes Boruto under his wing, while Sasuke's only daughter, Sarada, dreams of being Hokage one day.

With Naruto as the Seventh Hokage, the Hidden Leaf Village plans to host the Chunin Exams to train new shinobi from the village and from their allied villages. Among the entrants are Sasuke's daughter, Sarada, Mitsuki, an exceptionally talented yet mysterious shinobi… and Boruto, Naruto's talented but impetuous son. Meanwhile, Sasuke who's been on a mission in another dimension appears before Naruto to warn of a strange impending danger. Shrouded with an evil aura, Momoshiki and Kinshiki appear and attempt to assassinate Naruto. Petrified, Boruto is shielded by Naruto, only to disappear in front of Boruto's own eyes!
The film opened in Japan on August 7.
Original Naruto manga creator Masashi Kishimoto is credited with the original story, script, and character designs, as well as the chief production supervisor, for the film. Hiroyuki Yamashita (Naruto Shippūden episode director, Road to Ninja: Naruto the Movie animation director) directed the film, and Ukyō Kodachi (Chaos Dragon, Neppu Kairiku Bushi Road) collaborated with Kishimoto on the script.
The film stars Yuko Sanpei as Boruto and Kokoro Kikuchi as Sarada. Junko Takeuchi reprised her role as Naruto Uzumaki, and Noriaki Sugiyama reprised his role as Sasuke Uchiha.
---