News

Masato Hisa Ends Nobunagun Manga of Historical Figures vs. Monsters

posted on by Jennifer Sherman
6th/final compiled volume to ship in October
---

Masato Hisa ended his Nobunagun manga in Earth Star Entertainment's Comic Earth Star digital magazine on Friday. The final chapter announced that the sixth compiled book volume will ship in Japan on October 9.
The "stylish action" manga opens with high school girl Shio Ogura visiting Taiwan on a school trip, when she is caught in a surprise attack by monsters called "Evolved Invaders." The military is useless against them, but in the middle of the chaos, the mysterious E-Gene Holder agents from the government organization DOGOO appear.
Thanks to technology, these agents wield weapons infused with the spirits of great historical figures. Gandhi is now a barrier, and Newton is a gravitational maneuver. When her friend is endangered, Shio awakens the ability to wield one such weapon — the great Japanese warlord Oda Nobunaga as a giant machine gun.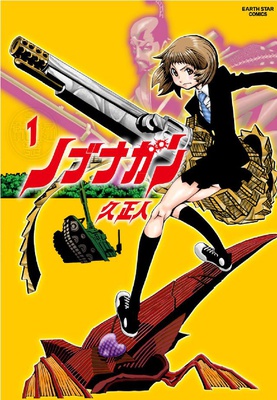 Hisa (Area 51, Jabberwocky, Grateful Dead) launched the Nobunagun manga in Comic Earth Star in 2011, and Earth Star Entertainment published the fifth compiled book volume this past April. The manga inspired a television anime series in 2014.
---