News

Nisekoi's 'Magical Pâtissier' Anime DVD Casts Yui Horie

posted on by Rafael Antonio Pineda
Yui Horie
voices new character Yui in adaptation of spinoff manga shorts
---
This year's 41st issue of Shueisha's Weekly Shonen Jump magazine will reveal on Monday that Yui Horie (Bakemonogatari, Toradora!, Persona 4) will voice the character Yui (based on the character Yui Kanakura) in the original anime DVD adaptation of the Magical Pâtissier Kosaki-chan spinoff manga shorts of Naoshi Komi's Nisekoi - False Love manga. The DVD will be bundled with the 21st volume of the Nisekoi manga on January 4.
The magazine also shows the line art for the character, and describes Yui as the queen who governs the land of magic. Because her real age barely qualifies her as a magical "girl," she uses magic to make herself look like a little girl. Yui did not appear in the eighth episode of the Nisekoi: anime that adapted the Magical Pâtissier Kosaki-chan manga.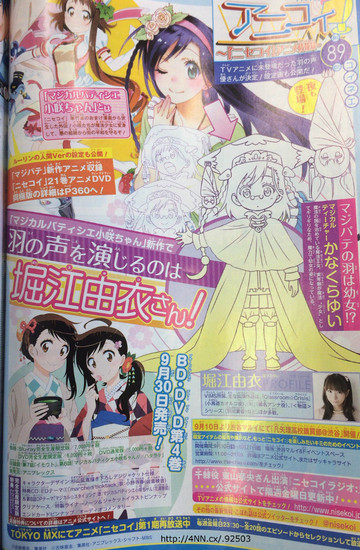 Half of the original anime DVD will adapt the special bonus Magical Pâtissier Kosaki-chan manga shorts (pictured left) that will be in the 19th, 20th, and 21st volumes. (Only the first of these shorts has been published, with the 19th volume having shipped on August 4.) The shorts feature Yui, and the anime's website teases a new magical girl as well.

The other half of the original anime DVD will adapt Komi's "Shinkon" (Newlywed) manga bonuses in the manga's fourth volume (Kosaki) and the booklets bundled with the 16th (Marika), 17th (Tsugumi), and 21st (Chitoge) manga volumes. The excerpt pictured right reads, "Dinner is ready. And so is the bath, so which do you want first?"
Chief director Akiyuki Shinbo, character designer Nobuhiro Sugiyama, and the anime studio SHAFT, are all returning for the original anime DVD after working on the television anime. Yukihiro Miyamoto (Arakawa Under the Bridge, Maria Holic, Puella Magi Madoka Magica) is the chief technical director.
The limited edition bundle for the 21st volume will include the manga volume itself, the anime DVD, a special booklet with Komi's "Shinkon Chitoge" short, one new Nisekoi PR card for the Weiβ Schwarz game, and the Magical Pâtissier Kosaki-chan postcard calendar.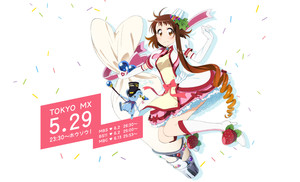 The eighth episode of the television anime already adapted Taishi Tsutsui's magical girl spinoff manga Magical Pâtissier Kosaki-chan.
Komi's original Nisekoi - False Love manga and the anime revolve around Raku Ichijō (Kouki Uchiyama), a normal high school student who happens to be the heir to a yakuza group. The attractive but violent transfer student Chitoge Kirisaki (Nao Tōyama), the heir to a rival yakuza group, transfers to his class, and the two must pretend to date to keep a war from breaking out between their families.
The second anime season premiered in Japan on April 10. Aniplex of America streamed the anime on Aniplex Channel, Crunchyroll, Hulu, and Daisuki services as it aired.
The 14th manga volume also bundled an OVA on DVD in October, and so did the 16th manga volume in February and the 17th volume in April.
---