News

Genocidal Organ, Harmony Anime Films' Theatrical Previews Streamed

posted on by Crystalyn Hodgkins
2 of 3 total
Project Itoh
films to open in Japan in November, December
---
The official website for the upcoming anime films based on the works of late novelist Project Itoh began streaming the theatrical previews for the Genocidal Organ and Harmony films on Friday.
The Genocidal Organ cast includes:
Yūichi Nakamura as Clavis Shepherd
Satoshi Mikami as Williams
Yuuki Kaji as Alex
Kaito Ishikawa as Realand
Akio Ohtsuka as Rockwell
Sanae Kobayashi as Lucia
Takahiro Sakurai as John Paul
Viz Media's Haikasoru imprint describes Genocidal Organ's original novel:
The war on terror exploded, literally, the day Sarajevo was destroyed by a homemade nuclear device. The leading democracies have transformed into total surveillance states, and the developing world has drowned under a wave of genocides. The mysterious American John Paul seems to be behind the collapse of the world system, and it's up to intelligence agent Clavis Shepherd to track John Paul across the wreckage of civilizations and to find the true heart of darkness—a genocidal organ.
The Harmony cast includes:
Miyuki Sawashiro as Tuan Kirie
Yoshiko Sakakibara as Os Cara Stauffenberg
Shinichiro Miki as Elliya Vashirof
Akio Ohtsuka as Asaf
Aya Suzaki as Cian Reikado
Cho as Keita Saeki
Junpei Morita as Nuaza Kirie
Reina Ueda as Miach Mihie
Haikasoru describes Harmony's original novel:
In the future, Utopia has finally been achieved thanks to medical nanotechnology and a powerful ethic of social welfare and mutual consideration. This perfect world isn't that perfect though, and three young girls stand up to totalitarian kindness and super-medicine by attempting suicide via starvation. It doesn't work, but one of the girls—Tuan Kirie—grows up to be a member of the World Health Organization. As a crisis threatens the Harmony of the new world, Tuan rediscovers another member of her suicide pact, and together they must help save the planet...from itself.
EGOIST (Psycho-Pass) will perform theme songs for all three Project Itoh films. The Empire of Corpses will open in theaters in Japan on October 2, Genocidal Organ is slated for November 13, and Harmony is slated for December 4.
Funimation will release the films in North America in 2016.
Each novel film adaptation is from a different director and studio. Shukou Murase (Witch Hunter Robin, Gangsta., Ergo Proxy) is directing Genocidal Organ at manglobe (The Unlimited - Hyōbu Kyōsuke, House of Five Leaves), Takashi Nakamura (Fantastic Children) and Michael Arias (Tekkonkinkreet) are directing Harmony at Studio 4°C (Berserk: The Golden Age Arc I - The Egg of the King, Tweeny Witches), and Ryoutarou Makihara is directing The Empire of Corpses at WIT STUDIO (Attack on Titan, Hōzuki no Reitetsu).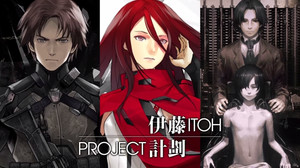 Project Itoh released Genocidal Organ as his debut novel in 2007, and his final novel, Harmony, debuted in Japan in 2008. Project Itoh wrote Harmony and the novel adaptation of Metal Gear Solid: Guns of the Patriots while he was being treated for the cancer that ultimately took his life in 2009. The Japanese film website Cinema Today reported in 2012 that film adaptation rights were being pitched in Hollywood.
Viz Media's Haikasoru imprint has published three of Itoh's full-length novels in English, excluding The Empire of Corpses.
---