News

Yuruyuri San Hai! Anime Previewed in Commercial

posted on by Karen Ressler
3rd anime series will premiere on October 5
---
TV Tokyo aired a 30-second commercial for Yuruyuri San Hai!, the third Yuruyuri television anime series.
The anime will premiere on TV Tokyo on Monday, October 5 at 2:05 a.m. It will then premiere on TVQ Kyushu Broadcasting Co., Ltd. later on October 5, on TV Hokkaido on October 6, on TV Osaka and TV Aichi on October 7, and on TV Setouchi on October 8. AT-X will run the anime on October 9 with repeats the following week. A new Yuruyuri Nachu Yachumi!+ episode aired before the third season on September 17.
The opening theme song "Chochocho! Yuruyuri Kapuriccho!!" by the main voice actresses (as Nanamori Chū☆Goraku-Bu) will go on sale on October 28. The ending theme song "Acchu~ma Seishun!" by Nanamori Chū☆Goraku-Bu will also go on sale on October 28. The first two Yuruyuri Uta♪Solo! CDs for Akari Akaza and Chinatsu Yoshikawa will go on sale on November 4. The next two for Kyōko Toshinō and Yui Funami will follow on November 18.
The various Yuruyuri anime projects adapt Namori's manga about four fun-loving schoolgirls who take over the former room of a tea ceremony club for their own "Goraku-bu" (amusement club).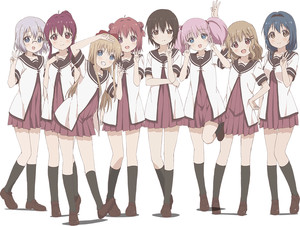 The main staff, while different from the first two seasons, will return from the Yuruyuri Nachu Yachumi! original video anime (OVA) for the third season. Hiroyuki Hata (Recently, my sister is unusual., Kamichu!) is directing the series at TYO Animations (Samurai Warriors, Tamayura - Hitotose). Motohiro Taniguchi (Recently, my sister is unusual.) is designing the characters and serving as chief animation director. Makoto Fukami (Chotto Kawaii Iron Maiden, Psycho-Pass) is joining the staff and work with Hata on the scenario.
The main cast will also return.
The first anime series premiered in Japan in July 2011, and Crunchyroll streamed the series as it aired. The 12-episode sequel series Yuruyuri♪♪ premiered in July 2012, and Crunchyroll also streamed that series as it aired. The Yuruyuri Nachu Yachumi! original video anime project shipped in February, after running in theaters last November.
JManga and ALC Publishing released part of the original manga digitally in English before JManga shut down in 2013. NISA has licensed and released both previous seasons in North America.
---