×
remind me tomorrow
remind me next week
never remind me
Subscribe to the ANN Newsletter • Wake up every Sunday to a curated list of ANN's most interesting posts of the week.
read more
News

Daisuki to Stream Gundam: Iron-Blooded Orphans Outside Japan

posted on by Rafael Antonio Pineda
---

Anime Consortium Japan (ACJ) announced on Tuesday that the Daisuki service will stream the upcoming Mobile Suit Gundam: Iron-Blooded Orphans television anime series for free in 242 countries and 13 languages as the series airs in Japan. The streaming will begin on Sunday, October 4 at 7:30 p.m. Japan Standard Time (6:30 a.m. EDT) worldwide (except for Japan "and some areas"). The streaming will have English, French, German, Italian, Russian, European Spanish, Latin American Spanish, Portuguese, Indonesian, Malay, Tagalog, Simplified Chinese, and Korean subtitles.
ACJ also announced that Hulu will begin streaming all 26 episodes of the Gundam: Reconguista in G on Friday, October 2 at 8:00 p.m. EDT.
ACJ describes Mobile Suit Gundam: Iron-Blooded Orphans series:
There was once a great conflict known as the "Calamity War." Roughly 300 years have passed since the end of this war.

The Earth Sphere had lost its previous governing structure, and a new world was created under new systems of government. While a temporary peace had arrived, the seeds of a new conflict were being sown in the Mars Sphere, far away from Earth.

Our hero, a boy named Mikazuki Augus, belongs to a private security company called Chryse Guard Security (CGS). The company accepts a mission to escort Kudelia Aina Bernstein, a girl who seeks to liberate the Martian city of Chryse from the rule of one of Earth's major powers. However, the military organization Gjallarhorn attacks CGS in order to nip this rebellion in the bud. CGS begins an evacuation, using Mikazuki and the other children as decoys.

Orga Itsuka, the leader of the boys, decides to take this opportunity to rise up in revolt and launch a coup d'état against the adults who have been oppressing them. He gives Mikazuki the task of repulsing Gjallarhorn, and Mikazuki enters battle using the Gundam Barbatos, a mobile suit from the Calamity War era which has been serving as CGS's power source.
The anime's main cast includes:
Kengo Kawanishi as Mikazuki Augus


Yoshimasa Hosoya as Orga Itsuka


Natsuki Hanae as Biscuit Griffon


Yuichiro Umehara as Eugene Seven Stark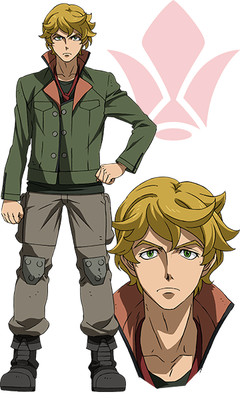 Yasuaki Takumi as Akihiro Artland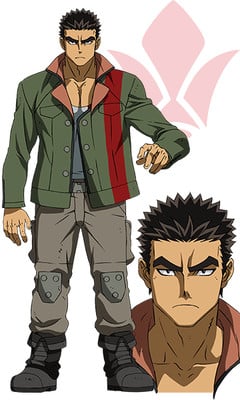 Taishi Murata as Norba Shino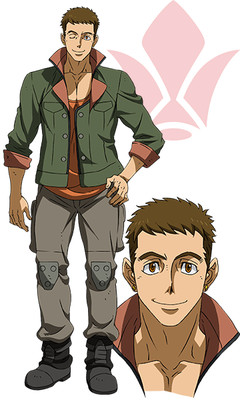 Kōhei Amasaki as Takaki Uno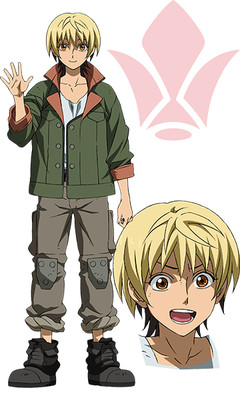 Sōma Saitō as Yamagi Gilmerton


Mutsumi Tamura as Ride Mass


Yuka Terasaki as Kudelia Aina Bernstein


Hisako Kanemoto as Atra Mixta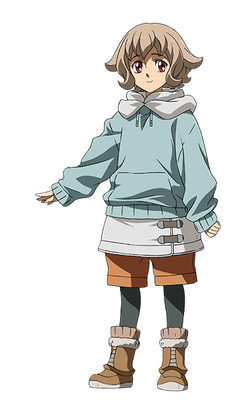 Takahiro Sakurai as McGillis Fareed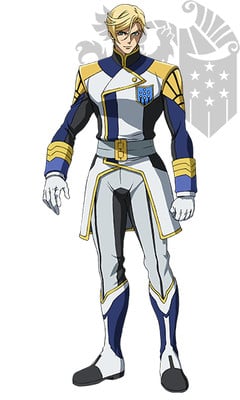 Masaya Matsukaze as Gaelio Bauduin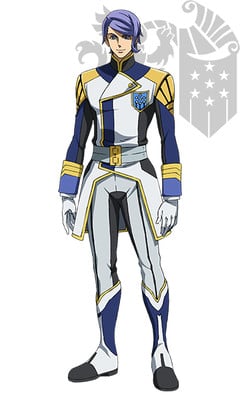 Other characters include:
Chad Chadan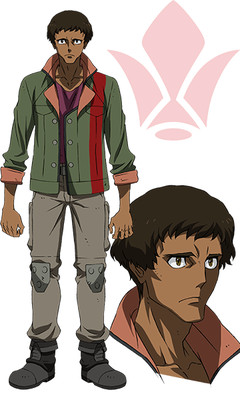 Dante Mogro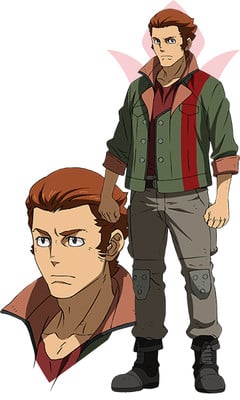 Tatsuyuki Nagai is helming the show at Sunrise, with Mari Okada handling series composition. Yū Itō (Shut Hell, Imperial Guards) drew the original character designs, while Michinori Chiba designed the characters for animation (Mobile Suit Gundam 00, Mobile Suit Gundam AGE). Naohiro Washio, Kanetake Ebikawa, Ippei Gyōbu, Kenji Teraoka, and Tamotsu Shinohara are designing the mechas for the show. Kusanagi is in charge of art design, and Masaru Yokoyama is composing the music.
Nagai and Okada have worked together previously on the Toradora! and anohana TV anime series, as well as the anohana film and the The Anthem of the Heart anime film.
The rock band MAN WITH A MISSION will perform the opening theme song, and Misia will perform the ending theme song.
The show will premiere on October 4 on 28 channels in Japan, and will also be streamed online.

ACJ describes the Gundam: Reconguista in G series:
Gundam: Reconguista in G, written and directed by veteran Director Yoshiyuki Tomino, takes place in the Reguild Century and focuses on Bellri Zenam, a cadet in the Capital Guard. During a practice run, Bellri is attacked by a mobile suit known as the G-Self, which uses technology possessed by no known nation. After successfully capturing the G-Self, known to only be operable under specific conditions, suddenly activates as Bellri begins to examine it. Now chosen by the G-Self, Bellri's life changes forever as truths that will shake the Reguild Century become known.
The show's first three episodes were premiered theatrically in Japan in August 2014, and premiered on Japanese television in October 2014. The series celebrates the Gundam franchise's 35th anniversary.
Gundam creator Yoshiyuki Tomino helmed the project. The team also had Kenichi Yoshida (Eureka Seven) handling character designs alongside mechanical design from Akira Yasuda (Code Geass: Lelouch of the Rebellion, Overman King Gainer), Ippei Gyōbu (Sacred Seven) and Kimitoshi Yamane (Cowboy Bebop, Mobile Suit Gundam Seed) and additional design work from Shigeto Koyama (Heroman, Gurren Lagann), Kinu Nishimura (Overman King Gainer), Takumo Sakura (Martian Successor Nadesico). GARNiDELiA performed the opening song "BLAZING" for the series, with Tomino writing the lyrics for the closing song under his pen name Rin Iogi with music supplied by the series' composer Yūgo Kanno (JoJo's Bizarre Adventure: Stardust Crusaders, Psycho-Pass) and Daisuke Hasegawa performing the song.
---
This article has a follow-up:
Gundam: Iron-Blooded Orphans to Also Stream on Crunchyroll, Funimation, Hulu, Gundam.Info
(2015-09-30 12:40)