News

The Anthem of the Heart Film Earns 514 Million Yen After 2nd Week

posted on by Rafael Antonio Pineda
Theaters give out "welcome portraits" depicting characters in film's 3rd, 4th week
---

The Anthem of the Heart (Kokosake or Kokoro ga Sakebitagatterun Da.) anime film has earned more than 514,402,000 yen (about US$4.28 million) and sold 384,381 tickets as of Tuesday, after two weeks in the Japanese box office. The film ranked at #5 in its opening week, and retained the rank over the September 26-27 weekend.
The film earned more than 300 million yen (about US$2.5 million) in its first five days at the Japanese box office, and sold approximately 235,000 tickets. Comparatively, the anohana anime film earned 290 million yen and sold approximately 232,000 tickets in its first five days when the film opened in August 2013.
Aniplex began streaming a commercial for the film on Tuesday showing Nogizaka46 members crying while watching the film. The group performed the film's theme song.

The film's official website also announced on Wednesday that for the film's third and fourth week, participating theaters in Japan will give out four different "mini-welcome portraits" to those who watch the film. Masayoshi Tanaka, the film's character designer, drew the welcome portraits. Each portrait depicts one of the film's main characters along with some of their classmates.
Those who watch in the third week will receive portraits of Natsuki Nidō and Daiki Tazaki.

Those who watch in the fourth week will receive portraits of Takumi Sagami and Jun Naruse.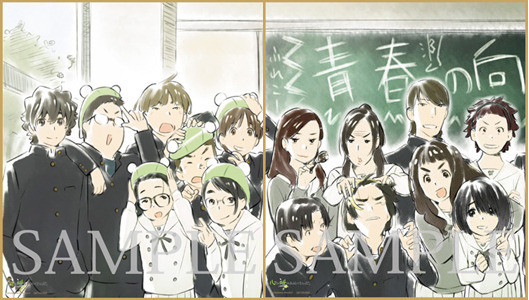 T-Joy will screen The Anthem of the Heart with English subtitles in four theaters in Japan from October 17-23 before the film opens in the United States and Canada starting on November 1.
The official English website for the film describes the story:
Jun is a girl whose words have been sealed away. She was once a happy girl, but because of a [certain thing] she said when she was very young, her family was torn apart. One day, the egg fairy appeared in front of her and sealed away her ability to talk in order to stop her from hurting anybody else. Since this traumatic experience, Jun lives in the shadows away from the limelight. But, one day she is nominated to become an executive member of the "community outreach council." On top of that, Jun is also appointed to play the main lead in their musical...
The film reunites staff members from the anohana and Toradora! anime. Tatsuyuki Nagai (A Certain Scientific Railgun, Waiting in the Summer) again directed the film at the studio A-1 Pictures. Mari Okada (M3 the dark metal, Hana-Saku Iroha) wrote the script, and Masayoshi Tanaka (Highschool of the Dead, Joshiraku) designed the characters. Like the anohana anime, the story of the new film is set in Chichibu.
Source: Anime! Anime!
---