News

Live-Action Boku dake ga Inai Machi Film's Teaser Reveals March Opening

posted on by Rafael Antonio Pineda
Poster for suspense film about man who can turn back time also unveiled
---
The official website for the live-action film adaptation of Kei Sanbe's Boku dake ga Inai Machi (The Town Where Only I Am Missing) manga began streaming a 30-second teaser for the film on Wednesday. The teaser reveals the film's March opening date, and also shows child actor Tsubasa Nakagawa as the elementary school-aged Satoru.
Satoru: It's happening again. Time is turning back.
Narrator: A man who is wrapped up in a phenomenon called "Revival," which turns back time if he does not stop an incident.
Airi: How did you know the kid would be in danger if he stayed there?
Text: Manga Taisho Awards, Kono Manga ga Sugoi! two-year consecutive lister
Narrator: In the end, can he solve the mystery and protect the ones he loves?
Satoru: Wake up!
Text: Return to the past.
Text: Solve the mystery.
Satoru and Logo: Boku dake ga Inai Machi
Satoru: Why am I in grade school?
Text: Opens in March 2016.

The website also unveiled a poster for the film, showing Tatsuya Fujiwara (left) as Satoru Fujinuma, and Kasumi Arimura as Airi Katagiri (right). The poster contains the tagline: "A man wrapped up in a phenomenon called "Revival," which turns back time if he does not stop an incident. To protect the ones he loves, he must go back to where everything began, 18 years ago."

The film's cast includes:
Tatsuya Fujiwara (live-action Death Note, Rurouni Kenshin) as the protagonist Satoru Fujinuma.
Kasumi Arimura (When Marnie Was There, live-action Strobe Edge) as Airi Katagiri, Satoru's part-time job coworker.
Yuriko Ishida (Princess Mononoke, From Up On Poppy Hill) as Satoru's mother.
Mitsuhiro Oikawa (Revolutionary Girl Utena: The Movie, live-action Nodame Cantabile) as Satoru's elementary school teacher.
Rio Suzuki as Kayo Hinazuki
Tsubasa Nakagawa as elementary school age Satoru
Tetta Sugimoto
Kento Hayashi
Seiji Fukushi
Kanna Mori
Hirakawa is directing the film off scripts by Noriko Gotō. The film is slated to open in Japan in March 2016.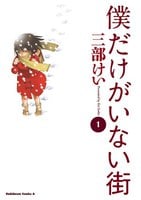 The manga's story follows Satoru, a struggling manga artist who has the ability to turn back time and prevent deaths. When his mother is killed he turns back time to solve the mystery, but ends up back in elementary school, just before the disappearance of his classmate Kayo.
Sanbe began the manga in 2012 and it is currently serialized in Kadokawa's Young Ace magazine. Kadokawa shipped the sixth compiled volume on July 4. The manga was nominated for the Tezuka Osamu Cultural Prize 'Reader Award' in 2014 and this year's Manga Taisho Awards.
An anime adaptation has also been green-lit and will premiere in January on Fuji TV's Noitamina block.
Source: Comic Natalie
---