News

Gundam: Extreme VS-Force Game Adds Destiny Gundam, Re-GZ, God Gundam

posted on by Egan Loo
Char's Z'Gok, Palace Athene, ReZEL also teased in PS Vita game
---
This week's issue of Kadokawa's Weekly Famitsu magazine is revealing on Thursday that Bandai Namco Entertainment's upcoming Mobile Suit Gundam: Extreme VS-Force PS Vita game is adding more playable mobile suits. In particular, it is adding Mobile Suit Gundam Seed Destiny's Destiny Gundam, Mobile Suit Gundam: Char's Counterattack's Re-GZ, and Mobile Fighter G Gundam's God Gundam.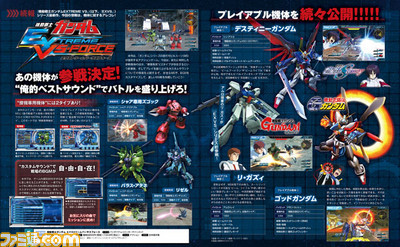 The magazine also teases that Char's Z'Gok (from the first Mobile Suit Gundam story), Palace Athene (Mobile Suit Zeta Gundam), and ReZEL (Mobile Suit Gundam UC) will also appear in the game.
Bandai Namco Entertainment previously streamed a trailer for the game on October 9. The trailer features T.M. Revolution's theme song "Inherit the Force."
In addition to the familiar 2 vs. 2 gameplay seen in previous entries, the new game lets players form their own original unit from six mobile suits. For the first time in the franchise, there will be three MS units and warships with up to seven MSs in a battle. Two players can battle each other via PS Vita's ad-hoc multi-player function. The new Force System allows players to give instructions to other mobile suits with "one button" and collect force points from defeating enemies and capturing bases. These force points can be used to replenish stats.
Gundam Barbatos (form 4) from the latest Gundam television anime, this fall's Mobile Suit Gundam: Iron-Blooded Orphans, will be available for a limited time as a DLC included with the game. A download code for Gundam Barbatos (form 1) will be included with the anime's first Blu-ray set on December 24.
First copies of the game will also include an promotional "RX-78-2 Gundam" card for the Mobile Suit Gundam U.C. Card Builder game. Sony will also release special collaboration models of the PlayStation Vita and PlayStation TV (known as the PlayStation Vita TV in Japan)
The game will ship in Japan on December 23. The game will get an English release in Asia this winter.
---